Brian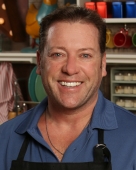 Name, Age: Brian Emmett, 43
Current Residence: Itasca, Ill. (originally from Glendale Heights, Ill.)
Occupation: Owner of a Marketing/Advertising Company
Baking Specialties: Breads, pies, cookies, savory baked goods and pastries.
What makes you America's best amateur baker? My repertoire, natural instinct, creativity and I'm not afraid to take risks!

Why do you enjoy baking? I love being creative and seeing the reaction from people when they eat.

What is your signature baking item? Caramel apple-topped cream cheese and mascarpone vanilla bean cheesecake with a walnut shortbread crust. I was having friends over for dinner and it was Fall. They were craving caramel apples but I had planned to make a cheese cake so I combined the two and created this signature item.

Have you had any baking disasters? Yes, I forgot to put sugar in a banana cream pie I was taking to a party!

What is your favorite family baking memory or recipe? When my grandmother came to visit she would always make an apple pie. I would sit in the kitchen with her, talk and watch her slice the apples to build the pie. I think of her every time I make it.

What is the best baking advice anyone has ever given you? Take time in the presentation part of it. It will give it the "wow" factor!

If you were a dessert what would it be? Anything fun and with layers, maybe a pinch of cayenne in it to match my personality!