Carlo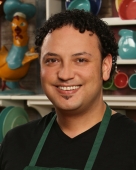 Name, Age: Carlo Fuda, 35
Current Residence: Stamford, Conn. (Originally from Elwood City, Pa.)
Occupation: Social Marketing Consultant
Baking Specialties: Zeppole, cheesecake and bread
What makes you America's best amateur baker? I tell a unique story when I bake, one of proud tradition and true to my heritage, but with an American influence. I take chances with complex flavors and bring the old world to the new.
Why do you enjoy baking? It relaxes me. I like eating what I make, and I can artistically express my culture and show off traditional specialties.
What is your signature baking item? It's an Italian turnover with fig, almond, chocolate, coffee and spices. It is a recipe as old as my last name. We typically eat it at Christmas.
Have you had any baking disasters? Absolutely! Baked a pie with a paper disc in it and then my dog ate it.
What is your favorite family baking memory or recipe? Too many to list but probably making zeppole on Christmas.
What is the best baking advice anyone has ever given you? Bake with passion and have fun. Love what you make and always share the love!
If you were a dessert what would it be? I would be an Italian Rum Baba – it's bold, sweet, intoxicating at first bite and at the heart of many Italian celebrations!