James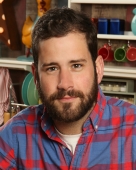 Name, Age: James Reddick, 26
Current Residence: Hollywood, Calif. (originally from Indianapolis, Ind.)
Occupation: Photographer
Baking Specialties: Pies, cookies and pastries.
What makes you America's best amateur baker? My attention to detail and my passion for the things I create makes me America's best amateur baker.
Why do you enjoy baking? Because it reminds me of my mama.
What is your signature baking item? Apple cranberry pie or beignets. They were the first things I learned to cook because I was super homesick.
Have you had any baking disasters? Too many!
What is your favorite family baking memory or recipe? My mom makes everything by hand and from scratch. She's a good country mama! So I do too!
What is the best baking advice anyone has ever given you? Keep baking something until you get it right, no matter how long that takes.
If you were a dessert what would it be? A chocolate and berry filled croissant, of course.