Jeremy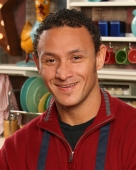 Name, Age: Jeremy Cross, 35
Current Residence: San Diego, Calif.
Occupation: Firefighter
Baking Specialties: Cookies, cakes and pies.
What makes you America's best amateur baker? I like to think that I can adapt to different baking environments and rise to the occasion.
Why do you enjoy baking? Baking is like therapy for me. I can be having the worst day, but I get in the kitchen and things seem better. I love to make friends and family happy.
What is your signature baking item? My cheesecake. My Aunt Charlotte would make them for parties, but I wanted to have them more often so I got her recipe, tweaked it and made it my own.
Have you had any baking disasters? I made a cake once and went to cut into it and it wasn't quite done. I was the only dessert there was for the event.
What is your favorite family baking memory or recipe? Every year the whole family comes to my house to bake and make Christmas cookies.
What is the best baking advice anyone has ever given you? Don't be afraid to take chances with your baking
If you were a dessert what would it be? I would be an Oreo cookie cheesecake.