Darlene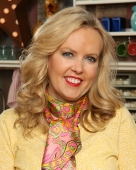 Name, Age: Darlene Pawlukowsky, 51
Current Residence: Johns Creek, Ga.
Occupation: Project Manager
Baking Specialties: Cakes and cookies
What makes you America's best amateur baker? I have had a passion for baking since I was a very small child. I am adventuresome and not afraid to try new things all the time and continue to learn every day. I bake quality items and think outside the box. I want everything I bake to taste great, be creative and original, like me! I put love into everything I bake and that's the secret ingredient to success!!!
Why do you enjoy baking? It lets me use my creativity in food, it challenges me and relaxes me. I became even more passionate about baking when I was raising children and I wanted them to have quality food, without all the chemicals, preservatives and bad fats. I bake with love and enjoy making people happy. Plus, who is not happy when they see someone coming with a crazy cake, beautiful cookies, or any other baked good? It's also my secret weapon to make sure my grown children come back home occasionally to visit their Mom!!!
What is your signature baking item? I'm known for my unique cakes. I started baking cakes for birthday and then bunko. Everyone loved them and I was just designated the cake baker for everything. I always make my baked goods unique in presentation.
Have you had any baking disasters? An occasional over baked cookie or overflowing pie.
What is your favorite family baking memory or recipe? When I was little I baked so much in my Easy Bake oven that one day my mom said to me, "you know Darlene, you're old enough to cook in the real oven." Embarrassing! And, Every Christmas my mom made many family cookie recipes and kept them in beautiful glass jars. She always knew when we were taking some because the glass lid would clink when we took it off.
What is the best baking advice anyone has ever given you? Put your heart and soul into everything you bake and it will taste wonderful.
If you were a dessert what would it be? Macaroon – vintage, classic, sweet, colorful, multi-layers. It looks delicate but really packs a punch!