Effie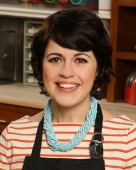 Name, Age: Effie D. Sahihi, 40
Current Residence: Hendersonville, Tenn. (Born in Israel and raised in Winter Haven, Fla.)
Occupation: Attorney
Baking Specialties: Cakes, tarts and breads.
What makes you America's best amateur baker? Baking has been a part of me and my life since my earliest memories. While my professional life veered into a different path that I am most proud of, I have always wanted to be a pastry chef and it is a goal that I will achieve. That passion is in everything that I bake for my family and friends, and a part of my heart is always in that offering. If there is a spirit of love and sincerity in your bake, it will be well received. I believe that is the ultimate mark of America's best amateur baker.
Why do you enjoy baking? It is truly my balance. I deal with people in the midst of the most difficult and heart-breaking times if their lives; baking allows me to be there for the joys and celebrations.
What is your signature baking item? A pistachio cake that is flavored with orange zest and cardamom, layered with fresh orange curd and orange blossom Swiss meringue buttercream. These are all of my late father's favorite flavors and he is always with me when I bake it.
Have you had any baking disasters? My son had severe egg allergies and any attempts at an egg-free cake were always disastrous.
What is your favorite family baking memory or recipe? Growing up as a child in an unstable region susceptible to bombardment, comfort would often be found in the smell of home-baked pita bread dipped in fresh pressed olive oil. That feeling of joy is why I bake and share it with others.
What is the best baking advice anyone has ever given you? The love, happiness and passion that you put into the bake will undoubtedly be evident in the final product. I believe that philosophy to hold true in everything we do in life.
If you were a dessert what would it be? I would be a mille feuille, which is a pastry that is comprised of layers upon layers of varied flavors, colors and textures. That variety is what makes life so beautiful and extraordinary.