Elaine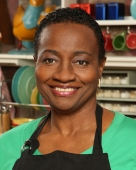 Name, Age: Elaine Francisco, 63
Current Residence: Claremont, Calif.
Occupation: Retired
Baking Specialties: Breads, pies and cakes

What makes you America's best amateur baker? Having a genuine passion for baking which came naturally at an early age!

Why do you enjoy baking? Baking is a great way to share love. Also a stress reliever and cheaper than retail therapy. I love it!
What is your signature baking item? Old fashioned classic yeast dinner rolls. It was the first complicated item I learned to bake when I was 8 years old. They were hard as rocks, but I kept at it until they were perfect.
Have you had any baking disasters? Only when I fell asleep after 20 straight hours of baking rolls and the last pan was left cooking in the oven way too long!
What is your favorite family baking memory or recipe? When I first started baking the old fashioned classic yeast dinner rolls, my Dad suffered through the first ones, chewing them repeatedly, never complaining. He became so appreciative when I got them perfected. Even in his old age, he got excited when he knew I was baking rolls!
What is the best baking advice anyone has ever given you? Critique your baked goods and always work to improve your results.
If you were a dessert what would it be? Chocolate cake with white frosting.