Francine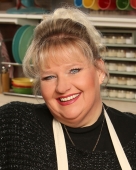 Name, Age: Francine Bryson, 44
Current Residence: Pickens, S.C.
Occupation: Homemaker
Baking Specialties: Pies, cakes and quiche.
What makes you America's best amateur baker? I stand by what I bake, and I don't get stressed about the food.
Why do you enjoy baking? I like creating food that people love and learning the secrets from the past.
What is your signature baking item? Upside down apple pecan pie. My Nana taught me to make it when I was about 7 years old and over the years I have perfected it in honor of the best baker I ever knew.
Have you had any baking disasters? Always! Soufflé's fall, pound cakes stick and something burns.
What is your favorite family baking memory or recipe? Our family gathers in the kitchen making the recipes that have been handed down for hundreds of years, creating an appreciation for the art in the next generation.
What is the best baking advice anyone has ever given you? Stick to your roots and never forget where your food taste came from - from my granny (my dad's mom).
If you were a dessert what would it be? White chocolate bourbon pecan pie - a little sweet, a little sassy and a lot of nuts in the kitchen.