Kolette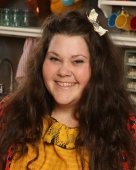 Name, Age: Kolette Biddle, 30
Current Residence: Norco, Calif.
Occupation: Home Health Care Provider
Baking Specialties: Cookies, pies, cakes and tarts.
What makes you America's best amateur baker? The thing that makes me the best amateur baker is I truly bake with my heart. This is my love, and with type 1 diabetes, it is how I enjoy it without eating it. I feel connected because I made it. It came from my heart, and it is a super great feeling sharing that love and connecting with the people I bake for.
Why do you enjoy baking? I like to bake for the people I love. It makes me happy when they enjoy my baking.
What is your signature baking item? Chocolate genoise ruffle cake. I like to watch baking with Julia on PBS. I saw the recipe and I decided to make it. It was so spectacular I now make it for all my special occasions.
Have you had any baking disasters? Yes, I have burned the cookies.
What is your favorite family baking memory or recipe? My great-grandmother's candy and my grandmother's cheesecake. She took it from Dear Abby's newspaper column.
What is the best baking advice anyone has ever given you? Whatever you dream, dream with all your heart; whatever you try, try with all your heart and happiness will be yours; and you seem the most happy when you bake.
If you were a dessert what would it be? I would be a salted caramel cupcake covered in disco dust - sweet, a little salty and covered in sparkles, with glitter over everything. Just like me!