Whitney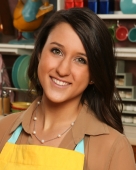 Name, Age: Whitney Appleton Beery, 21
Current Residence: Lubbock, Texas (Originally from Castle Rock, Colo.)
Occupation: College student studying Hotel and Restaurant Management at Texas Tech.
Baking Specialties: Cupcakes, cakes and scones.
What makes you America's best amateur baker? Because I'm young and fun and love exploring with baking.
Why do you enjoy baking? It is my calming activity and I love seeing people happy after eating my dessert.
What is your signature baking item? Everyone seems to like my cupcakes and cheesecakes the most.
Have you had any baking disasters? Yes! I tried to make strawberry cupcakes and it went all wrong.
What is your favorite family baking memory or recipe? I have many family recipes from my grandmother – even in her own writing which reminds me of amazing family time.
What is the best baking advice anyone has ever given you? Bake with love and it will always be good!
If you were a dessert what would it be? A chocolate chip cookie, because everyone loves a chocolate chip cookie.