Season 1:

Episode 1 - Pies & Tarts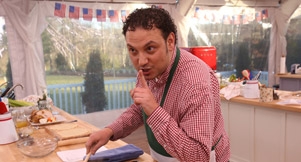 Pies & Tarts: A SLICE OF COMPETITION
10 of the nation's best amateur home bakers come to Atlanta, GA to compete for the title of America's Best Amateur Baker, a quarter of a million dollars and their very own cookbook. The bakers are out of their comfort zone, baking competitively for the first time, but some, like Star Baker Francine, rise to the challenge while others, like Carlo who is the first to go, crumble.

SIGNATURE BAKE: THE ALL AMERICAN PIE
The 10 best amateur bakers in the nation arrive in the baking tent for the first time. Aprons on, they are ready to get baking – but Jeff Foxworthy has a few surprises in store first. He announces that the winner not only will be named the America's Best Amateur Baker but they will also receive a quarter of a million dollars and their very own cookbook contract. Each week, someone will be named Star Baker and one person will be sent home.

Then, Jeff reveals that for their first Signature Bake Challenge, they must each make their own version of the All American Pie. They are given two hours to complete the task – On your marks, Get set, Bake!

The bakers are fish out of water – having only ever baked in their homes for family and friends, the bakers have to adapt to a new kitchen and a more intense environment.

The judges – master baker Paul Hollywood and chef Marcela Valladolid – explain that the Signature Bake recipes should be tried and true family recipes and they are looking for pies that have a good base, fantastic filling and a great bake.

Firefighter Jeremy, 35, says that he is used to stressful environments, so he feels confident about baking his Grandmother's sweet potato pie. The judges, however, are concerned about the amount of nutmeg he is using to flavor his pie.

Paul explains when working with dough, you need to incorporate the butter in the flour until you can't feel it anymore. Then, you add your liquid and once all is combined, you pop it in the fridge to solidify the fats, making it easier to roll out.

While their pie dough chills, the bakers work on their pie fillings. Carlo measures ricotta, Kollette melts her chocolate and James chops apples.

26 year old James, explains his classic date move is making his Mile High Apple pie – and hopes it will help him score with the judges as well.

College student Whitney, 22, admits that she does not like pie – it is not on her diet plan. She is making her Grandma's lemon pie and adding meringue to the top to make it a bit prettier.

Brian, 43, is known at home as "the male Martha." He explains that he loves to clean and he loves to bake. When he tells the judges that he is making a chocolate pecan pie with a generous splash of bourbon, Paul comments that he needs to be careful not to add too much alcohol to the pie. On crutches from an injury before coming to the competition, Brian insists that he will not use his injury as an excuse.

The bakers begin rolling out their pie dough and begin prepping their crusts for their fillings. Paul explains the risk of soggy bottom – a big no no in pie making. The fillings can soak into the pie crust creating a soggy pie crust when baked. So, to prevent this, the bakers can blind bake their pie crusts before adding the fillings which is pre-baking the crust for 10 – 20 minutes before the filling is added, All the bakers choose to do this, except for Whitney.

Elaine, 63, explains that she is making an old family recipe – a peach cobbler style pie with an intricate lattice top. But she has difficulty working with the dough – so the lattice top – is putting her behind.

Francine, 44, is a self-proclaimed redneck. She enters little hometown baking competitions and loves working with southern flavors. She is adding bacon to her chocolate peanut butter pie – much to the dismay of Paul Hollywood.

With their pies in the ovens, the bakers watch their bakes like hawks. Having put her pie in late, Elaine is worried that her pie will not bake in time.

Carlo, 35, is Italian and is planning to decorate the top of his Ricotta Easter pie with bird cutouts.

Jeff, Paul and Marcela discuss that there will be a lot of stress in the final rush because these bakers are not used to baking in a competitive environment like this.

The bakers race to finish their bakes. Jeremy has to nix adding whipped cream to the top of his pie because his pie is too hot and the whipped cream would melt and Elaine knows her pie is not baked through.

The bakers express worry about having their baked good judged for the first time.

Carlo is first to be judged. Paul says the decoration on the pie is busy. Carlo insists, like the Sistine Chapel, his pie can be busy. Unfortunately, Carlo has the dreaded soggy bottom and Marcela does not like the texture of the ricotta.

James' Mile High Apple pie is the biggest apple pie Paul has ever seen. And the judges love the flavor.

Darlene's Sweet Potato Pie is a hit with the judges and with Jeff.

Whitney's Lemon Pie with Meringue has a soggy bottom and Marcela wishes there was more lemon flavor.Effie's Apple, Quince, Rose pie looks professional and is original.

Kollette's Chocolate Hazelnut Pie is very rich but delicious.

Brian's Maple Bourbon Chocolate Pecan Pie has too much alcohol flavor.

Elaine's Peach Cobbler Style Pie is obviously under-baked – she needs to work on time management.

Jeremy's Sweet Potato Pie is too simple looking and has an overwhelming nutmeg flavor.

Francine's Peanut Butter Bacon Pie is a surprise hit with the judges – even Paul loves it!

Francine is thrilled after the first round but Jeremy and Elaine hope to prove themselves in the later rounds.

TECHNICAL BAKE: FREESTANDING SAVORY PIE
Jeff tells the bakers that the next bake is the Technical Bake. They each will be given the same recipe with missing instructions. The bakers will have to rely on their instincts to fill in the blanks. This challenge is judged blind by Paul and Marcela, so to ensure they have no idea which baker baked what, Jeff asks Paul and Marcela to retire to the Judges' Tent for the duration of the bake.

With Paul and Marcela out of the main tent, Jeff tells the bakers that, for their first Technical Bake, they will be making a freestanding savory pie. It will be a hot water crust pastry and to add more pressure, it is Paul Hollywood's recipe. They have 2 hours. On your marks, Get set, Bake!

As the bakers begin deciphering the vague recipe, over in the Judges' Tent Paul explains to Marcela that to make the hot water crust, the bakers must mix milk, shortening and salt together and then add hot water to melt the shortening.Effie, 40, explains that she is measuring her dough on a scale to be precise. Being a full time attorney, mom and wife Effie explains to Jeff that she is very type A.

The bakers have to roll out the dough quickly before it cools down; otherwise it becomes difficult to work with. As the bakers put the pie dough in the pie tins, they have to be careful not to add too much dough or it won't bake through, but too little dough and the pies will collapse when removed from the tins.

As the bakers begin the filling for their pies, Jeff talks to Kollette. A diabetic, she can't taste her sweets but Jeff also finds out that she is vegetarian so she can't eat this savory pie either!

The bakers put their pies in the oven, but with no baking time listed on the instructions, it is a guessing game as to how long the pies need to bake.

With 15 minutes to go, Carlo has a smoking oven because he forgot to put a pan down to catch the oil leaking out of the pie tins.With their pies out of the ovens, the bakers have to start the tricky task of popping the pies out of their tins – if they aren't very careful their pies can fall apart.

James takes it down to the wire, hoping to get his pies more brown and Darlene worries that her pies are not cooked through.

With their pies laid out for judging, Paul and Marcela return to the main tent.

Darlene's dough is good but not cooked through.

Jeremy's pie is satisfactory.

Effie's pie has a soggy bottom.

Kollette's pie has a soggy bottom and her filling is not cooked through.

Carlo's pie dough is totally raw.

Francine's pie is liked by the judges.

Brian's pie is a hit with the judges.

Whitney's pie is bland.

James' pie has a soggy bottom and filling is overcooked.

Elaine's pie is well baked and well seasoned.

In last place is Carlo. Followed by Darlene in 9th place and James in 8th place. Whitney, Effie, Kollette and Jeremy's bakes pass the test. Francine comes in 3rd and Brian steals first place from Elaine because his pie was a bit more brown on the top.

Brian is proud to have conquered Paul's recipe. Whitney and Carlo are worried about possibly being eliminated this week.

SHOWSTOPPER BAKE: 36 SWEET TARTLETS
Going into the showstopper bake, Jeremy is hoping to redeem himself from his poor signature bake and Brian is hoping to be Star Baker.

Jeff announces that their challenge is to make 36 sweet tartlets. The bakers get going on their last bake of the week.

Paul notes that Carlo, Whitney and Jeremy are all in trouble of going home this week, so they must step up their game.

Francine says she would love to be Star Baker this week – pie is her thing. She is making Chocolate Cherry tartlets and learns that her great grandmother's ganache recipe is very similar to Paul's.

Carlo says that his tartlets will be delicious and original – and is hoping his tartlets inspired by flavors from Italy will make up for his last place technical bake. However, Marcela worries that he is trying to add too many flavors to his tartlets.

Paul explains that when working with their dough, the bakers need to make sure they do not overwork their dough – or else it will become like rubber.

Brian is making Raspberry and Dark Chocolate Tartlets and insists that he doesn't just think he s a Star Baker, he knows he is. Francine and Elaine roll their eyes.

Elaine is hand forming her dough instead of rolling it, and is making Lemon Ginger Tartlets.

As the bakers race to add flavorings to their tartlet fillings, Marcela explains that because these are just small bites, the tartlets must pack a lot of flavor. Unfortunately with little time remaining, Jeremy burns the custard filling for his tartlets and has to restart the filling.

The bakers race to finish their tartlets while keeping them uniform and beautiful. Jeremy is unable to finish his tartlets in time.

Carlo is excited to have the judges try his tartlets while Jeremy is upset that he did not complete the challenge.

The judges love Francine's Chocolate Cherry Tartlets.

Paul thinks Carlo's tartlet filling looks like tar and Marcela does not like the flavor.

Darlene's Blooming Apple Tartlets are not uniform in appearance but taste nice.

Kollette's Goat Cheese Cherry Tartlets presentation does not impress the judges and neither does the taste.

Whitney's Rum Coconut Rum tartlets have tough pasty dough but good flavor.

James gets pegged for not using an apricot jam to glaze his Ricotta & Greek Yogurt Honey tartlets.

Marcela loves Effie's filling for her Orange Almond Vanilla Ricotta tartlets.

Paul nearly breaks his tooth on Brian's Raspberry & Dark Chocolate tartlets.

Elaine's Lemon Ginger tartlets are a slam-dunk with Paul and Marcela.

Jeremy's unfinished Kiwi, Mango & Blueberry tartlets do not impress the judges. Paul says time management is crucial in this competition.

DELIBERATION AND ELIMINATION
Jeff tells the bakers it is now time for Marcela and Paul to decide who will be this week's Star Baker and who will be going home.

During deliberation, Paul and Marcela think Francine's original and flavorful bakes could get her Star Baker but Elaine's comeback from the Signature Bake and Brian's first place Technical Bake could also put them in contention for Star Baker. In danger of going home are Carlo, Whitney and Jeremy.Francine is awarded Star Baker.

Carlo is sent home because, across the board, his bakes were too lacking in flavor. Jeremy is given another week in the competition because he has potential, he just has to work on his time management.