Season 1:

Episode 5 - Dessert Week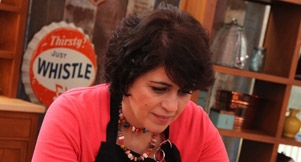 Dessert Week: DESSERT DRAMA
It is dessert week on The American Baking Competition and the bakers are serving up signature custards, difficult French soufflé and maddening meringue showstoppers. Darlene is consistent in each bake and has a second helping of Star Baker while Effie is sent home.

SIGNATURE BAKE: CUSTARDS
The competition heats up in the 5th week, where only 6 bakers remain. Effie, having been in the bottom the previous week, is hoping to make a comeback, while James is determined to snag Star Baker.

First up is the Signature Bake. Each baker must make 8 individual custards in 90 minutes. 8 custards may seem easy enough, but Paul Hollywood points out that with custard, since there is so few ingredients, there is no place to hide.

Because all custards are egg yolks thickened by milk or cream, the bakers begin the challenge by separating their egg yolks and heating their dairy on the stove.

James is making custards that are comprised of espresso and caramel because those are his favorite flavors. Jeff and the judges tease that with all the caffeine from the espresso, James will be buzzing during the Technical Challenge. He hopes these custards help him be the last guy standing.

Effie is excited to be making custards because they are her husband's favorite dessert. She is taking on a big challenge by making 2 sauces from scratch to serve with her lime pot de crème – a blackberry sauce and a caramel sauce. She hopes that this will give her a leg up on the competition.

Marcela explains one of the dangers when making custards. When the bakers add the heated milk or cream to their egg yolks, they have to be careful to whisk constantly, making sure not to cook the eggs.

Francine is making orange and vanilla flavored custards inspired by her favorite childhood treat – the dreamsicle! She tells Jeff that this is her mom's recipe and, when Jeff asks if her mom would be proud of her, Francine nods yes and is brought to tears.

Darlene says her children only like vanilla flavored custards. So, she is making plain vanilla custards but is jazzing up the top with a coconut cookie crumb topping. She is thrilled after being Star Baker last week and hopes to keep it up this week.

Unlike most of the other bakers, Elaine is opting to do savory custards filled with crabmeat and fresh corn. The judges and Jeff are really looking forward to her flavors, although Marcela warns her that she needs to watch out for the moisture content in the crab and corn.

Meanwhile, has a plan up his sleeve. He is making Mexican flavored custards, hoping this will get Marcela's vote.

As the bakers get ready to put their custards in the oven, they prepare a bain-marie – otherwise known as a water bath to Francine, who can't pronounce the French phrase. They place their 8 custard filled ramekins in larger pans and then add water to the pans until it is halfway up the ramekin cups. Paul explains that this helps bake the custards evenly. Effie, who wants to bake her custards all at the same time for uniformity, takes a change on a large hotel pan for her bain-marie, although she worries if the pan is too big to distribute the heat in her allotted cooking time.

With 10 minutes remaining, the bakers check on their custards. Most are happy with how they are looking but when Effie checks on her custards she realizes they are still completely unbaked!

When Jeff calls time, everyone is ready to present his or her custards – except Effie, who is heartbroken over her liquid custards.

During judging, Darlene hits it out of the park with her vanilla custards with coconut cookie crumb. Francine dreamsicle custards fail on flavor, the judges love James' espresso caramel custards, the moisture in the corn and crab end up ruining the texture of Elaine's custards, Marcela tells Brian he has overbaked his custards and, despite liking the flavor of Effie's liquid custards, Paul points out that the point of the challenge was to make custards, not soup.

Effie feels there is no room for error in the Technical Bake, while James hopes that this is his week to nail it in the dreaded Technical Bake.

TECHNICAL BAKE: THE SCARY SOUFFLE
For their Technical Bake this week, Jeff tells the bakers they have to tackle the infamous French Chocolate Soufflé. Because soufflé falls almost immediately out of the oven, Jeff tells them that their start times will be staggered. Brian will be the first to begin the challenge, all the other bakers are asked to wait outside.

As Brian begins to decipher the recipe, he is confused by the amount of milk the recipe calls for.

Back in the Judge's Tent, Marcela explains to Paul how the bakers should go about making the chocolate soufflé. First, they need to make a chocolate batter with milk, flour butter, egg yolks and melted chocolate.

As Francine walks in the tent to get started, she worries that she has never had a soufflé turn out when she has attempted them before.

Back in the Judge's Tent, Marcela explains that after the chocolate batter is made, the next step is to whip the egg whites and finally, to carefully combine the egg whites with the chocolate batter to ensure that no white streaks from the egg whites will remain once baked.

As Elaine enters to begin making her soufflé, she is very confident, while Darlene is nervous because she has only ever made a cheese soufflé before. Meanwhile, Brian decides the ratio of chocolate batter seems too high for the egg whites and alters the recipe by not adding all of his chocolate batter to his egg whites.

James is nervous to begin the challenge, saying that he has no idea how to do this challenge. He takes a look around to see how Elaine and Darlene are preparing their soufflé dishes and decides to copy them. As he wraps parchment paper around the soufflé dish to make a collar, Jeff teases him that it reminds him of trying to wrap a Christmas present.

As Effie begins the challenge, she aims to make up for her poor showing in the Signature Bake.

As the bakers put their bakes in the oven, they anxiously watch to see if their soufflé rises. Darlene explains to Jeff that it is key not to open and close your oven door to check on the soufflé – because that change in temperature will make your soufflé fall. Meanwhile, Brian fully takes his soufflé out of the oven to check the top and then puts it back in to finish baking. When Jeff checks on Brian, to his dismay, Brian notices that his soufflé has begun to fall in the oven.

With her soufflé in the oven, Effie tastes the left over soufflé batter while cleaning up. To her horror, she realizes that she forgot to add the sugar! But, since her soufflé is already baking away in the oven, there is nothing she can do to fix it.

Because the Technical Bakes are judged blind and some bakers are still baking, Paul and Marcela have to have their backs to the bakers during judging. This ensures they will not know whose soufflé they are judging.

First up is Brian's soufflé. When it reaches the judges it has completely fallen. Worse yet, there are scrambled egg whites all throughout the soufflé – the result of Brian not using all of the chocolate batter. The judges are disgusted.

Next, the rise on Francine's soufflé does not impress the judges, but her flavor does. Elaine's soufflé is slightly under-baked but otherwise a perfect soufflé. Darlene has a solid soufflé with a nice rise and the judges are wowed by James' soufflé.

Effie gives up on her bake and takes it out early, deciding that it is better to get the misery over with instead of having the judges wait for something that will never be good. When the judges dip their spoon into Effie's soufflé they discover the raw batter inside. And when they taste the batter, they wonder what happened to the sugar.

The judges rank the soufflé the following: Brian 6th, Effie 5th, Francine 4th, Darlene 3rd, Elaine 2nd and James 1st.

The judges praise the top 4, saying all those soufflé were great. The judges slap Brian on the wrist for changing up their recipe and explain to an emotional Effie that she should have not given up on herself. And James is in tears with his win.

SHOWSTOPPER BAKE: MERINGUE MADNESS
As they enter the tent to begin the Showstopper Bake, James is determined to get Star Baker and Brian is just hoping to do well enough to stay another week.

Jeff announces that they will be making layered desserts featuring meringue. They have 5 hours – Ready, Set, Bake!

The bakers begin by whipping up egg whites and sugar to make their meringues.

Jeff and the Judges visit Brian, who apologizes for going off book in the Technical Bake. Brian is making almond meringue with chocolate ganache mouse and orange buttercream frosting.

Darlene feels confident about her chances for Star Baker this week, as she works on her chocolate and coffee flavored creation.

Some bakers are flavoring their meringues with strong flavors, like Francine who is using raspberry. While other, like Effie who is using hazelnuts, are using more subtle flavors. Effie's hazelnut meringue is layered with chocolate coffee ganache and vanilla buttercream. Effie tells Jeff she has a new attitude today. She had been getting wrapped up in the negative feedback and stopped having fun while baking, so today is all about having fun!

Marcela explains while the bakers pipe their layers of meringue, they must be careful to do it evenly, so the meringues will stack well. The judges visit Francine and she tells them her creation will be layers of textures – crispy meringue, silky chiffon cake and creamy lemon curd.

As the bakers work on their Showstopper desserts, Jeff takes us outside of the baking tent to learn all about the most high profile ovens in the country – at the White House kitchen! We learn about the favorite desserts of past Presidents – like Ronald Reagan's chocolate cravings and Bill Clinton's favorite cobbler.

As the meringues are in the oven, the bakers begin working on their other layers. James is making lemon sheet cake to go with his Australian style meringue known as a Pavlova. His dessert will also be iced with meringue frosting. Elaine is making pecan meringue cake with dark chocolate buttercream frosting – Jeff teases her that her dessert is simple but rich – like Larry the Cable Guy!

With their meringues out of the oven and their other elements prepared, the bakers begin the tricky task of building their cakes. James decides that his cake looks way too large and drastically disassembles his cake with only 30 minutes remaining and slices each layer in half and then puts it back together.

Francine fights with Brian about leaving the refrigerator door open – as her dessert needs to set in a cool refrigerator.

As time counts down, James who is behind on his meringue frosting, ends up dumping the unfinished meringue frosting all over his sloppy looking cake.

During judging, Paul and Marcela love Effie's hazelnut meringue with chocolate coffee ganache and vanilla buttercream, like the flavor of Darlene's chocolate and coffee meringue, are unimpressed with the presentations of Elaine's dark chocolate pecan meringue and Brian's almond meringue with chocolate mousse and orange buttercream, Francine impresses them with the flavor of her raspberry lemon and meringue chiffon cake, and they rip apart the presentation and bake on James' mess of lemon sponge pavlova. A crack of thunder resonates as James waits to hear from the judges.

DELIBERATION/ELIMINATION
During deliberation, Paul says, before the Showstopper, James would have been a sure bet for Star Baker. Marcela says she was impressed with Darlene's custards and soufflé and Francine's showstopper dessert. Marcela puts Brian on the chopping block because of his overbaked custards and because he came in last in the Technical Bake. Paul has a problem with that because he feels Effie's unbaked custards and unbaked soufflé were more of an issue. After some heated arguing, there's another roar of thunder.

Darlene ends up winning Star Baker, for the second week in a row, because she has proven to be the most consistent across the week.

Effie is sent home because, as Marcela explains, she had 2 completely raw bakes.

Although she is sad to go, Effie is proud to have at least left on a high note with her final showstopper.