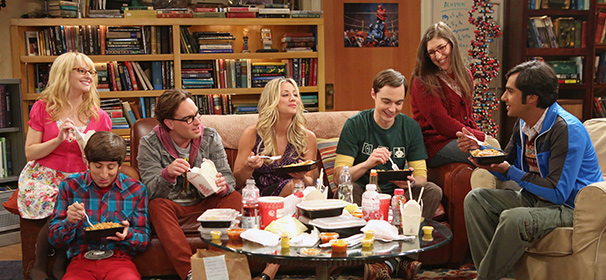 News: The Big Bang Theory Artist Series
BURBANK, Calif. (July 16, 2013) — Comic-Con fan favorite The Big Bang Theory (Thursdays 8/7c CBS) returns to San Diego in 2013, and this year, TV's #1 comedy makes its appearance at the Con not only in a Friday panel session — but also in fine art form. Warner Bros. Worldwide Television Marketing and Warner Bros. Consumer Products have launched The Big Bang Theory Artist Series, an exclusive collaboration with a select group of leading and emerging artists to celebrate TV's #1 comedy and its oft-imitated geek-chic aesthetic with a series of original artworks that will debut at Comic-Con.

Seven original pieces from The Big Bang Theory Artist Series will be exhibited in a gallery space within the Warner Bros. booth, and limited-edition litho prints of two of the selections will be available for sale at the Huckleberry booth. Exhibitions of additional pieces and artwork from the Artist Series, as well as future prints and additional merchandise based upon the series, will follow in upcoming months.

* The Studio invited artists from the U.S. and around the globe to collaborate on The Big Bang Theory Artist Series and to express their visual interpretation of the smash series, its characters and its themes. Artists from Korea, Mexico, the UK, Italy, Germany, the U.S. and more have contributed original works in a variety of mediums and styles — ranging from street art to fine art and from digital to illustration — all inspired by The Big Bang Theory.
* Fans can see the first installment of the Artist Series, with seven original pieces on display at the Warner Bros. booth, #4545 on the convention floor.
* 250 limited-edition offset lithographic prints of the creations by Martin Hsu ("Big Bang Cats") and Jerrod Maruyama ("Little Big Bang Theory") can be purchased for $45 per print at the Huckleberry booth, #3449 on the convention floor. Additionally, artists Hsu and Maruyama will be on hand to sign their prints on Friday, July 19, at the Huckleberry booth (time TBD).
* For a preview (with digital watermarking) of Martin Hsu's "Big Bang Cats" and Jerrod Maruyama's "Little Big Bang Theory," click here to download images.
* Throughout the next year, WBTVG and WBCP will reveal additional participating artists, unveil new pieces and artwork, and announce upcoming gallery exhibitions featuring all artists in the series. Original merchandise based upon the Artist Series and future lithographic prints will be available at select events and retailers.
* Continue to visit www.thewb.com and www.facebook.com/theWB for information about merchandise and artist updates. For information about future print sales, please visit www.chara-covers.com.
Details on the seven original pieces from The Big Bang Theory Artist Series on display at the Warner Bros. booth are as follows:

* "Big Bang Cats" by Martin Hsu. San Francisco artist Martin Hsu found inspiration in the peculiar feline characteristics of cat breeds when looking for a perfect match for the eccentric Big Bang characters.
* "Little Big Bang Theory" by Jerrod Maruyama. Specializing in character concept and design, freelance illustrator Jerrod Maruyama looks for the "cute" in everything and found a natural fit with these adorable cartoon characters in an almost toylike, kawaii homage.
* "Zero2Hero" by Dez Einswell. As part of his signature style, Dez Einswell draws out the iconic nature of each character, blending both super hero and fanboy imagery.
* "Doctor Cooper" by Nan Lawson. Self-taught Silverlake illustrator Nan Lawson found inspiration in Sheldon Cooper's charming and humorous perspective of how the world works.
* "Friendship Formula" by David Zajdman X Munky King. Using Munky King's Omi (designer toy) aesthetic, Zajdman presents his own variable on Sheldon Cooper's "Friendship Algorithm."
* "In the Beginning There Was Nothing Which Exploded" by Richard J. Oliver. Welsh artist Richard Oliver creates a visual representation of the Big Bang characters in the old comic book style fused with that of more contemporary graphic novels.
* "The Big Bang" by Sakiroo Choi. Internationally prominent Korean illustrator and artist Sakiroo Choi was inspired by Stephen Hawking's groundbreaking research, as well as scientific themes found in The Big Bang Theory. This piece expresses the idea that the singular Dr. Sheldon Cooper — similar to a black hole — is unaffected by the gravitational pull of everything that surrounds him
For continuing info on the Studio's plans at Comic-Con, please visit www.thewb.com/comiccon and follow us on Twitter at @TheWBdotcom (hashtag #WBSDCC).

About The Big Bang Theory
The Big Bang Theory stars Jim Parsons, Johnny Galecki, Kaley Cuoco, Simon Helberg, Kunal Nayyar, Mayim Bialik and Melissa Rauch. Chuck Lorre, Steven Molaro and Bill Prady serve as executive producers of the series, which was created by Lorre & Prady. From Chuck Lorre Productions, Inc. in association with Warner Bros. Television, The Big Bang Theory airs Thursdays at 8/7c on CBS, and the seventh season premieres on September 26.

About Huckleberry
Founded in 2006, Huckleberry dedicated itself to designing well-made, imaginative products to foster fun, creative play for kids of all ages.
Check out a preview below!
"Big Bang Cats" by Martin Hsu


"Little Big Bang Theory" by Jerrod Maruyama