Jeanne Tripplehorn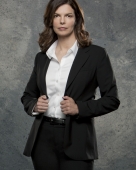 For five seasons, Jeanne Tripplehorn co-starred with Bill Paxton in the cable series "Big Love." The series was nominated for Golden Globes Awards in both 2007 and 2008 for Best Dramatic Television Series and an Emmy Award nomination in 2009 and 2010 for Best Television Drama. She also portrayed Jacqueline Bouvier Kennedy in the critically acclaimed cable film "Grey Gardens," for which she was nominated for an Emmy Award in 2009 for Best Supporting Actress in a Television Movie. Additional television credits include a guest starring role in the series "New Girl," the short film anthology "Five," the television movie "Old Man" and "The Perfect Tribute," with Jason Robards.

Tripplehorn's feature film credits include "Morning," "Relative Values," "Mickey Blue Eyes," "Very Bad Things," with Leland Orser, "Sliding Doors," "Till There Was You," "Waterworld," "The Night We Never Met" and "The Firm." Tripplehorn made her motion picture debut in the film "Basic Instinct," opposite Michael Douglas.

Tripplehorn was born in Tulsa, Okla., and currently resides in the Los Angeles area with her family. Her birthdate is June 10.