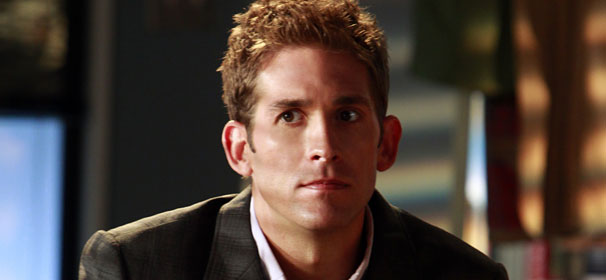 Blog: Researching Genealogy for "Genetic Disorder," by Elizabeth Devine
[Guest entry for "Genetic Disorder" written by the episode writer herself, Elizabeth Devine!]

In the never endin­g search for story ideas here on CSI, we glean tidbits and snippets from a variety of sources. In the case of Episode 1210: Genetic Disorder, the idea to dig into the world of genealogy came from Executive Producer Carol Mendelsohn. When she asked me to write the episode, there were two things she wanted: a dead body in our coroner's, Doc Robbins, bed and a victim who was a genealogist.

I share a long time fascination of genealogy with Carol. My interest in the subject started years ago when I helped my mother interview my Great Aunt Eleanor McCarthy. She was the last of my Grandfather Frank's generation of McCarthys who hailed from Santa Barbara by way of Boston and County Waterford, Ireland. Her stories were colorful and interesting even though she was speaking about people I had never heard of, people who were long dead.

I saw the proffered yellowed photographs and faded portraits with names and dates scrawled on the back. I strained to see a family resemblance, all the while realizing these people were my ancestors. So I helped my mother start the McCarthy family tree on Ancestry.com. Some entries were easy to add, but as the generations became more and more removed, I needed to dig deeper for family notes and archives. I found that every family member had a story.

I became addicted.
­

And I was not alone. Carol was also hooked on genealogy. She loved Ancestry.com and would spend hours on their site. She had previously compiled research on the topic so I dove right in to her research notebooks, excited to immerse myself in everything genealogy.
For a couple of weeks I scanned the stories she had acquired about long lost relatives and mysterious family trees. I read articles written by genealogists and about genealogists. What struck me immediately was the dedication and enthusiasm these people felt about discovering one's ancestry.
I began to realize that in essence, genealogists are history detectives.
I knew that I needed a character in the show that would showcase the enthusiasm of genealogists -- both professional and amateur. The only problem was that my genealogist had to be dead at the beginning of the show. So I decided to have my dead genealogist have a business partner. In truth, most of the genealogists I read about work solo and don't have storefront "shops". So I may have taken some literary license creating the character's two-person genealogy business.
Now my challenge was to bring this character to life. I didn't have to look very far to find an interesting character.
Carol's assistant, Tom Hoppe, has his family tree hanging in his office. It is the most detailed document you have ever seen. His father has traced their family tree all the way back to Charlemagne. (According to legend, Charlemagne shared his DNA with many ladies of the time). His father works constantly on the Hoppe family tree revising and adding to it. Every six months or so Tom will get a revised version more intricate than the last. Tom jokes that his father has worked on the same family tree for twenty years. Now this is a character I could be interested in.
So I created Donna Hoppe, as a shout out to Tom's father, masterfully played by Pamela Reed.
­
In the episode one of our ­criminalists, Greg Sanders, is having some difficulty locating a man who is not in any police database. To get past this roadblock, he decides to enlist the help of Donna Hoppe, partner of the dead genealogist. She takes him on a ride searching retro card files and official county documents in the pursuit of a missing murder suspect.
The story follows the twists and turns of discovery while the CSI's try to find the motive for the killing of a seemingly innocent genealogist. We discover that occasionally family members aren't excited about finding long lost relatives, and that some family secrets should never be revealed.
While Greg works with Donna his fascination for his family history grows and we know he's instantly hooked.
­
So watch CSI: Crime Scene Investigation's episode "Genetic Disorder" airing
December 14, 2011 at 10 PM on CBS
.
You'll get hooked on genealogy, too.