Sela Ward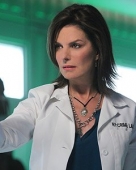 Sela Ward's television credits include starring roles on "House"; "Once and Again," for which she received an Emmy Award, a Golden Globe Award and two Emmy nominations; and "Sisters," where she received an Emmy Award and Golden Globe and Screen Actors Guild Award nominations. She also starred in the television special, "Almost Golden: The Jessica Savitch Story."

Ward's film credits include "The Stepfather," "The Guardian," "The Fugitive," and "The Day After Tomorrow," among others.

In 2002, Ward published her first book, titled Homesick. Part inspirational story, part memoir, the book tells Ward's quest for a balance between the comforts of her small-town childhood and her big city way of life. The book appeared on the New York Times bestseller list.

The Mississippi native and University of Alabama alumnus moved to New York after graduation, where she planned to pursue advertising. Soon after moving to New York, Ward began to model for Wilhelmina Modeling Agency, where she embarked on a successful modeling career.