Justin Silver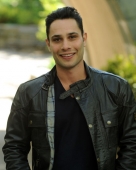 From Queens, N.Y., Justin Silver is a born-and-bred New Yorker whose lovable pit bulls, Chiquita and Pacino, played a large role in propelling him from dog lover to dog trainer, all the way to the new reality series DOGS IN THE CITY.

After fostering and rehabilitating abused animals for over a decade, Justin opened "The Language of Dogs," a full service pet care company in New York.

In addition, Justin is a stand-up comic and regularly performs at "The Comedy Cellar," "Caroline's," "Stand Up New York" and many other comedy venues around New York. In 2005, Justin founded the charity "Funny For Fido," which combines his two passions…comedy and dog lover. For the charity, he hosts fundraising events where headlining comics volunteer to perform stand-up to raise money for homeless animals, shelters and canine rescue operations.

In his free time, Justin enjoys working out, volunteering at animal shelters, collecting furniture and chasing his two pit bulls in his Chelsea neighborhood. His birthday is July 30. Follow him on Twitter @IamJustinSilver.