Goran Visnjic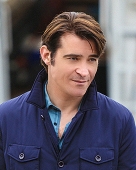 Goran Visnjic is a Croatian-born actor who has received critical acclaim and commercial success in theatre, television and on the silver screen. Best known for his role as Dr. Luka Kovac in the hit television series "ER," Visnjic continues to tackle some of Hollywood's most challenging roles, making him one of the most sought after actors today.
Visnjic's recent television credits include the drama "Red Widow," with Clifton Collins Jr., Radha Mitchell and Jamie Ray Newman.
Visnjic's film credits include Ridley Scott's "The Counselor" alongside Michael Fassbender, Brad Pitt, and Javier Bardem; "The Girl With the Dragon Tattoo" with Daniel Craig, Rooney Mara and Christopher Plummer; "Beginners" with Ewan McGregor, Christopher Plummer and Melanie Luarent; "Helen" opposite Ashley Judd; and a segment for the anthology film "New York, I Love You," a series of love stories all taking place in New York City, directed by Andrei Zvyagintsev. He also co-starred in the movie "Elektra" opposite Jennifer Garner; loaned his voice to the animated hit "Ice Age"; and starred in "Committed," "Practical Magic," "Rounders" and "Welcome to Sarajevo."
Recently, Visnjic completed production on the feature film "Asthma," about New York's indie rock scene. The film is set to premiere later this year.
Visnjic began his career starring in Shakespeare's "Hamlet" at the internationally acclaimed Dubrovnik Summer Theatre Festival in Croatia. His performance as Hamlet earned him the coveted Orlando Award (the equivalent of the Tony Award).
Visnjic was born in Sibenik, Croatia and resides in Los Angeles. His birthday is Sept. 9.