Hiroyuki Sanada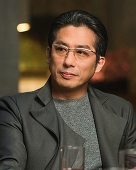 As one of Japan's most talented and highest regarded actors of his generation, Hiroyuki Sanada has garnered the attention of American and foreign audiences with over 50 films and a Japanese Oscar to his name.
Sanada started his career in film when he was 5 years old and later won the Japanese Academy Award for his role in "The Twilight Samurai," where he played a mid-19th century low-ranking samurai employed as a bureaucrat. Also, the film was nominated for an Academy Award for Best Foreign Language Film. On the heels of this success, Sanada made his mark with American audiences when he starred alongside Tom Cruise in Ed Zwick's "The Last Samurai."
Since then, Sanada has appeared in a number of notable features, including James Ivory's "The City of Your Final Destination" with Anthony Hopkins; "The White Countess" opposite Ralph Fiennes; Danny Boyle's sci-fi thriller "Sunshine" with Chris Evans and Rose Byrne; the action thriller "Speed Racer" alongside Susan Sarandon and Emile Hirsch; Brett Ratner's "Rush Hour 3"; Chen Kaige's "The Promise," a Chinese epic fantasy romance; and the terrifying "Ringu" films.
Sanada voiced a character in the upcoming animated film "Minions" with Sandra Bullock, Jon Hamm and Steve Carell, and filmed "47 Ronin" opposite Keanu Reeves. Additionally, he had a role in "The Railway Man" alongside Colin Firth and Nicole Kidman and was seen in the action feature, "X-Men: The Wolverine" opposite Hugh Jackman.
Sanada starred in SyFy Channel's original series "Helix," in which he is part of an elite team of CDC researchers investigating a mysterious viral outbreak in the Arctic Circle – an outbreak which has implications for all of mankind. Also on television, Sanada did an arc on the first season of the series "Revenge," and appeared in multiple episodes of the award-winning show "Lost," where he played the role of "Dogen" in the final season.
Beyond television, Sanada became one of the few foreign actors to tour with the Royal Shakespeare Company in a production of "King Lear," with Nigel Hawthorne.
Sanada has a Black belt in karate, is trained in Japanese traditional dance and Japanese Swordplay "Tate." He was born in Tokyo and currently resides in Los Angeles. His birthday is October 12.