Pierce Gagnon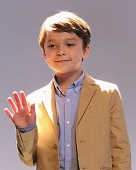 Pierce Gagnon is best known for his break out role as Cid in the feature film "Looper," opposite Bruce Willis, Joseph Gordon-Levitt and Emily Blunt. Last year, Gagnon shot three back to back features. In the first of the three, "Merry Friggin' Christmas," he stars alongside Robin Williams, Lauren Graham, Joel McHale, Wendy McClendon Covey and Oliver Platt. Gagnon then went right into shooting the Zach Braff film "Wish I Was Here," which premiered at Sundance and will be released later this year. Two months later he filmed a role in the feature "Tomorrowland" with George Clooney and Judy Greer, set for release in Summer 2015.
Previously, Gagnon had a recurring role on "One Tree Hill."
Gagnon was born in Atlanta, Ga and resides in Kennesaw, Ga. His birthday is July 25.