Camryn Manheim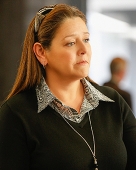 Camryn Manheim is best known for her role as defense attorney Ellenor Frutt in the Emmy Award-winning drama "The Practice." Her portrayal of the feisty defense attorney garnered her an Emmy Award in 1998 for Outstanding Supporting Actress in a Drama Series, and in 1999 a Golden Globe Award for her work in the same role. In 2006, Manheim was nominated again for Emmy and Golden Globe awards for her portrayal of Gladys Presley in the CBS miniseries "Elvis."
Currently, Manheim recurs in the CBS drama PERSON OF INTEREST. Prior to that, she was a guest star on CRIMINAL MINDS and a series regular on "Ghost Whisperer," both on the Network, as well as on "Harry's Law."
Manheim is the author of the 1999 New York Times bestseller, "Wake Up, I'm Fat!" published by Broadway Books.
Manheim received her Bachelor of Arts degree from the University of California at Santa Cruz and her Masters of Fine Arts at New York University.
Manheim was born in Caldwell, N.J. and resides in Venice, Calif. Her birthday is March 8.