Listen up, these 15 reasons prove why Comic-Con 2014 was one epic experience.

1. The Big Bang Theory's Kaley Cuoco-Sweeting released the trailer for the fictitious, Serial Ape-ist 2!
Bummed couldn't make it to Comic-Con this year, but wanted to share this trailer for Serial Ape-ist 2! http://t.co/ZFIJJmPba0 #wbsdcc #bbt

— Kaley Cuoco Sweeting (@KaleyCuoco) July 25, 2014

2. Person of Interest's Jim Caviezel hurdled a table mid-panel to hug a fan.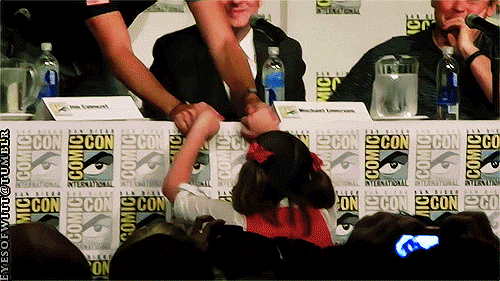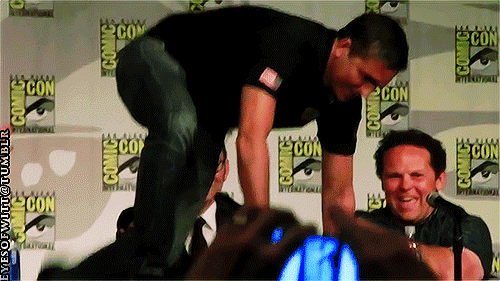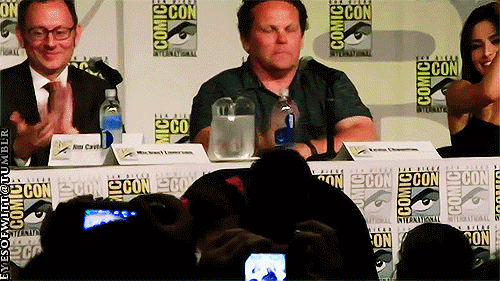 Original GIFs found at
jimcaviezelfan.tumblr.com
3. Jim Parsons took to Instagram to share his love for San Diego and Comic-Con.
4. Under the Dome's Rachelle Lefevre actually drank up Comic-Con.
5. Criminal Minds' Matthew Gray Gubler beat up on Mike Tyson.
moments after i kicked his ass..................(at pictionary) pic.twitter.com/lOQrpALrCA

— matthew gray gubler (@GUBLERNATION) July 27, 2014

6. Person Of Interest star, Amy Acker, reminded everyone how cool Comic-Con art can be.
"@Zap2it: Zap2it First: 'Person of Interest' debuts Mondo poster at Comic-Con 2014 http://t.co/G4M4KsF7eB pic.twitter.com/iRydbPDooD" Cool!

— Amy Acker (@AmyAcker) July 25, 2014

7. During the Scorpion panel, Robert Patrick wasn't afraid to put the fear in fans, Terminator-style.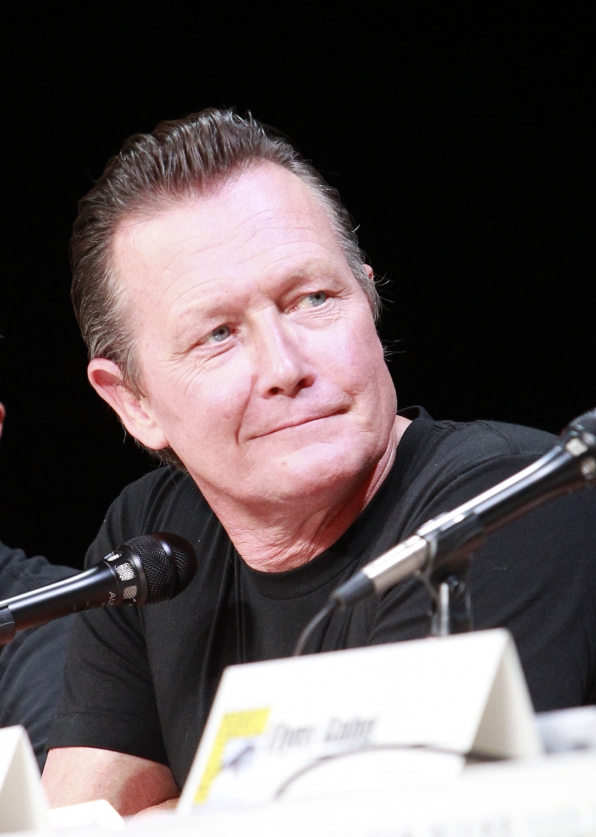 8. Even in a post-HIMYM world, Cobie Smulders still showed up at Comic-Con.
#Avengers comics writer @BRIANMBENDIS (creator of Maria Hill!) & @CobieSmulders meet for the first time! #MarvelSDCC pic.twitter.com/IpnKEWheXd

— Marvel Entertainment (@Marvel) July 26, 2014

9. A photo with Person Of Interest's Sarah Shahi made a fans' entire day.
"@aestandarte: @onlysarahshahi #SDCC2014 Thanks for stopping and taking a pic with me. Highlight of the day!! pic.twitter.com/s3Q78BdxD2"cheers!

— Sarah Shahi (@onlysarahshahi) July 26, 2014

10. Jim Parsons couldn't resist a stop in the EW GIF booth just like his fans can't resist him.

Just a preview of what we've got your favorite celebs at #SDCC making. Exhibit A—#JimParsons: http://t.co/2vpYRUAUC9 http://t.co/WCq1BRsQeg

— Entertainment Weekly (@EW) July 25, 2014

11. 2 Broke Girls' Jonathan Kite proved that Comic-Con is really just a place for adults to be kids again.
Drive a Mario Kart and you'll always find parking at #sdcc #TVGMYacht pic.twitter.com/wkxUmaxCW9

— Jonathan Kite (@jbkite) July 26, 2014

12. Under the Dome castmates got a kick out of their own photo.
This is a goodie! #SDCC #UTD @RachelleLefevre @Mike_Vogel pic.twitter.com/NorDhvA4Zi

— Eddie Cahill (@EddiePCahill) July 25, 2014

13. Kate Micucci and Riki Lindhome turned The Big Bang Theory panel into a musical.
14. Mike & Molly's Nyambi Nyambi proved that even stars get "awestuck" by the event.
My 1st @Comic_Con was awe inspiring. Can't wait til the next. Sharing photos of my weekend throughout the day. #SDCC pic.twitter.com/UClgkSfP3w

— Nyambi Nyambi, Jr. (@NyambiNyambi) July 28, 2014
15. This awesome Abby doll was available for NCIS fans to purchase.