Kevin Alejandro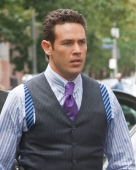 Most recently, Kevin Alejandro appeared in the series "True Blood" as Jesus. In 2011, Alejandro starred in the television movie "Hide" opposite Carla Gugino. Also, he starred in the John Wells' drama "Southland," as well as "Shark," on the Network, and in "Sleeper Cell: American Terror." Additional television credits include recurring roles on "Ugly Betty," "Parenthood," "Weeds" and "Sons of Anarchy."

Alejandro appeared in various independent and major feature films, including Kevin Smith's "Red State," "Strange Wilderness," "Crossing Over," with Harrison Ford, and "Truck Stop."

Alejandro studied theater at the University of Texas and lives in Los Angeles with his wife and son. His birthday is April 7.