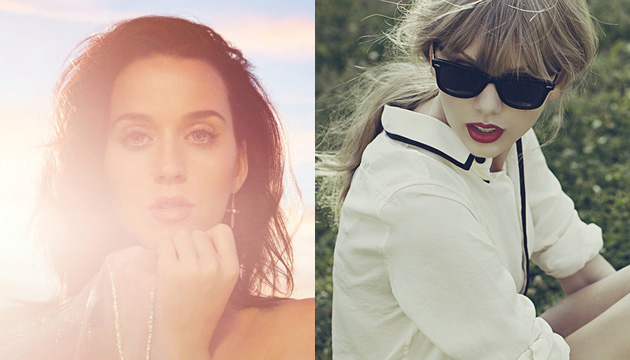 News: Performances From Katy Perry and Taylor Swift
Singer/songwriter Katy Perry in a performance from Canada and seven-time GRAMMY® Award winner Taylor Swift in a performance from Australia are the latest performers announced for THE GRAMMY NOMINATIONS CONCERT LIVE! — COUNTDOWN TO MUSIC'S BIGGEST NIGHT®. Joining them is a star-studded line-up including members of six-time GRAMMY® Award-winning group Earth, Wind & Fire and three-time GRAMMY® Award winner T.I. joining previously announced Robin Thicke, Lorde, and GRAMMY® Award winner Miguel joining the previously announced four-time GRAMMY® Award winner Keith Urban. Other previously announced performers are Macklemore & Ryan Lewis. Actor/comedian/talk show host Arsenio Hall, GRAMMY® Award and Latin GRAMMY winner Enrique Iglesias and singer/songwriter Ed Sheeran have been added as presenters. Two-time GRAMMY® Award winner LL COOL J returns to host the one-hour special. The show, which will announce nominations in several categories, will take place live at Los Angeles' Nokia Theatre L.A. LIVE, Friday, Dec. 6 (10:00 – 11:00 PM, ET/delayed PT/9:00 PM, CT) on the CBS Television Network. Additional performers and presenters will be announced shortly.

This concert special marks the sixth time nominations for the annual GRAMMY Awards® will be announced live on primetime television. Last year's broadcast of the nominations special helped lead to stellar ratings for the 55th Annual GRAMMY AWARDS®, which garnered 28.37 million viewers — the second-largest audience for the awards broadcast since 1993. The broadcast also nearly doubled its social media conversation from the previous year, generating 24.8 million comments (based on research compiled by Bluefin, PeopleBrowsr and Mass Relevance).

LL COOL J has hosted The GRAMMY Nominations Concert Live! — Countdown To Music's Biggest Night since its inception in December 2008 and also hosted the annual GRAMMY Awards broadcast for the second time earlier this year.

The road to Music's Biggest Night begins with The GRAMMY Nominations Concert Live! and culminates with the 56th Annual GRAMMY Awards, live from STAPLES Center in Los Angeles on Sunday, Jan. 26, 2014 at (8:00 PM, ET/delayed PT) on CBS.

The GRAMMY Nominations Concert Live! — Countdown To Music's Biggest Night is produced by AEG Ehrlich Ventures, LLC. Ken Ehrlich is the executive producer. LL COOL J is producer.