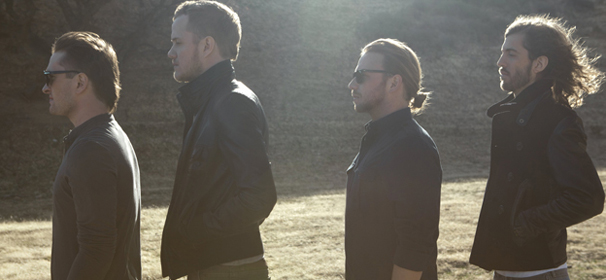 News: Record Of The Year
The 56th Annual GRAMMY Awards are almost here - so check out this year's nominees for Record Of The Year as announced during this years GRAMMY nomination concert.

Daft Punk - "Get Lucky"

The presence of Pharrell Williams is enough to make any song funky, but adding his smooth vocals to the lead track off Daft Punk's new disco-influenced dance album Random Access Memories took smooth to new heights. "Get Lucky" dominated the charts and earned its place on the soundtrack of 2013. Williams and the french robot DJs have yet to perform the song live in public, heightening anticipation among fans who have high hopes for a tour in 2014

Imagine Dragons - "Radioactive"

One of the biggest songs of the year was also the one with the most-often misheard lyrics. When Imagine Dragons and co-writer Alex Da Kid wrote "Radioactive" for the band's album Night Visions, they probably didn't imagine so many people making up their own lyrics. TV host Kelly Ripa joined that list when she famously admitted to singing along, saying "ready to rock kid." The song has quickly made Imagine Dragons a household name

Lorde - "Royals"

"Royals" is the debut single by New Zealand singer-songwriter Lorde - off both her 2012 The Love Club EP and debut album, Pure Heroine. The song recieved worldwide acclaim and the song put the New Zealand songstresses on the map in a big way - performing at a number of the biggest venues and events around the world including the Ed Sullivan Theatre for CBS 'Live on Letterman' webcast.

Bruno Mars - "Locked Out of Heaven"

"Locked Out of Heaven" is a song by American singer-songwriter Bruno Mars from his 2012 sophomore effort - Unorthodox Jukebox. The song was written by Mars, Philip Lawrence and Ari Levine, and produced by Mark Ronson, Jeff Bhasker, Emile Haynie and The Smeezingtons. Bruno has been GRAMMY nominated 168 times and has taken home the prize a whopping 47 times. The song also topped the Billboard Hot 100 for six consecutive weeks upon its release and charted inside the top-ten in 20 countries.

Robin Thicke - "Blurred Lines"

"Blurred Lines" is a song recorded by American recording artist Robin Thicke for his massively successfull 2013 self-titled effort. Thicke gets down with American rapper T.I. and American singer and producer Pharrell Williams on the track and all three share writing credits on the single. The song peaked at number one on the US Billboard Hot R&B/Hip-Hop Songs chart and also shot to the top of the Billboard R&B Songs chart upon release.