Michelle Borth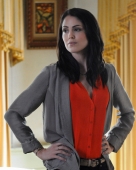 Michelle Borth was most recently seen in the feature film "A Good Old Fashioned Orgy," alongside Will Forte, Jason Sudeikis and Leslie Bibb. Her additional film credits include the independent romantic-comedy "TiMER," which premiered at the Tribeca Film Festival in April 2009, as well as "The Sisterhood," "Trespasser," "Wonderland" and "Silent Warnings."
Borth starred in the television series "Combat Hospital." Her additional television credits include the series "The Forgotten," opposite Christian Slater, "Tell Me You Love Me" and "Supernatural."
Borth is passionate about her work with the National Multiple Sclerosis Society. Her hometown is Monroe, New York and she currently resides in Los Angeles. Her birth date is Aug. 19. She can be followed on Twitter @michelleborth.