Cobie Smulders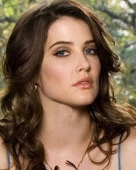 Cobie Smulders' television credits include a lead role in "Veritas," and a recurring role in "The L Word," as well as appearances in "Andromeda," "Smallville," "Tru Calling," "Jeremiah" and "Special Unit 2."

Her theater credits include "Singing in the Rain," "Grease" and "Women and Wallace." She also appeared in the feature film "The Long Weekend."

Smulders grew up in Vancouver and lives in Los Angeles. Her birth date is April 3.