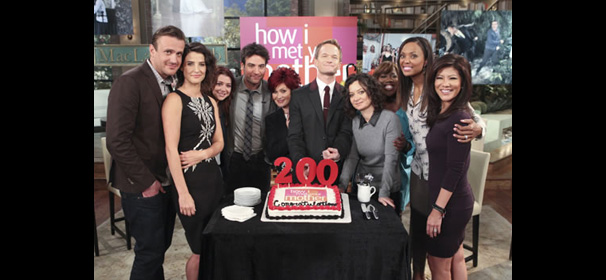 The How I Met Your Mother cast visits The Talk: 200th Episode Celebration
The Talk celebrates the 200th episode and final season of How I Met Your Mother this Monday, Jan. 27, 2014, at 2/3 PM, ET; 1/2 PM, PT/CT, featuring cast members Josh Radnor (Ted Mosby), Jason Segel (Marshall Eriksen), Cobie Smulders (Robin Scherbatsky), Neil Patrick Harris (Barney Stinson) and Alyson Hannigan (Lily Aldrin).

During the appearance, cast members share hilarious behind-the-scenes stories, give clues on what's in the store for the series finale and, in a touching moment, reveal what they will miss most after the ninth and final season. In addition, the cast brought along signature set pieces, including the Playbook, a bottle of the show's signature scotch, the Robin Sparkles jean jacket, the yellow umbrella, Ted's red boots and the blue French horn which appeared in the pilot episode. The Talk hosts send the cast off with a surprise cake to mark their 200th episode!