Sentra And Thu Reflect On Their Hunted Experience
Talk about your #TacoTakedowns.

Fugitives Sentra and Thu were managing their time pretty well for their first half of Hunted: mainly camping out in the woods and giving the Command Center investigators and Hunters no sign of their whereabouts.

SUBSCRIBE: Catch Up On Episodes Of Hunted With CBS All Access

But the one time they decided to celebrate by getting some fast food at their halfway point, the two young ladies were caught red-handed by the Hunters—or rather, taco-handed—while munching on their commemoratory treats, on the episode entitled "Fight, Flight Or Freeze."

Since then, we caught up with Sentra and Thu, who vowed they would probably never eat tacos again (unless they were free, of course).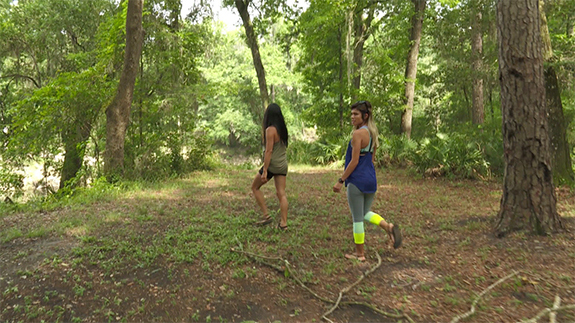 Now that you've seen the episodes and have a better sense of what led to your capture, how do you feel about how everything went down?

Sentra: Happy we made it as long as we did, sad we gave life to #TacoTakedown.

Thu: It is definitely eye-opening. Before we left Rob's place, we talked to a cop who installs surveillance cameras as a side job, and we asked him several questions about the technology available and what the cameras were capable of.

What was it like getting to see how the Command Center investigators and Hunters operated in order to track you down?

Sentra: Transparent. License plates are easily traced.

Thu: It was definitely fascinating to see what types of technology they had available. It was also interesting to see that their tactics went beyond technology. They were pretty clever using social manipulation and random things many people would never think to use, like shading with a No. 2 pencil.

Sorry, I have to ask... Will you two eat Taco Bell ever again?

Sentra: Only if Taco Bell gives us free tacos.

Thu: I haven't eaten Taco Bell since that whole incident. It's hard not to have flashbacks every time I drive by. It was such a stupid mistake we could've easily avoided.

So, unless Taco Bell and I make amends—ahem—with a sympathy contract from their marketing team ... then probably not.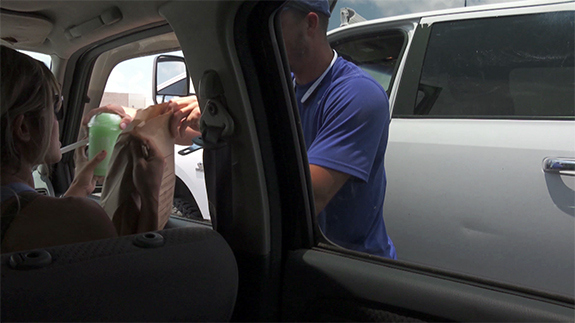 Had you not ventured back into civilization, do you think you could have lasted another 14 days in the wilderness?

Sentra: Totally.

Thu: Definitely. Sentra was adamant about getting rid of the car, so we likely would've ditched it and started hitchhiking. We can both handle the environment. There would've be [complaining] from being hot, hungry, uncomfortable, and getting eaten alive by mosquitos, but without a doubt, we could have lasted.

Aside from leaving to get food, what do you think was your ultimate downfall in this game?

Sentra: Using a getaway car for longer than needed.

Thu: Relying on comfort. Even though we roughed it for the majority of our run, things like the car and having a burner phone are considered comfort items. We didn't really need a phone. We could've relied on strangers to get by.

The car was easy to bounce from one place to another, but the fuel was expensive, which is why we had to get money out as often as we did.

Plus, we had it for way too long and we were bound to be seen with it at some point.

What would you have done differently?

Sentra: Blow the car up.

Thu: We would've avoided all forms of technology all together. Packed more food. Ditched the car earlier. NOT celebrate on Day 14, but on Day 28, after we got our check in hand.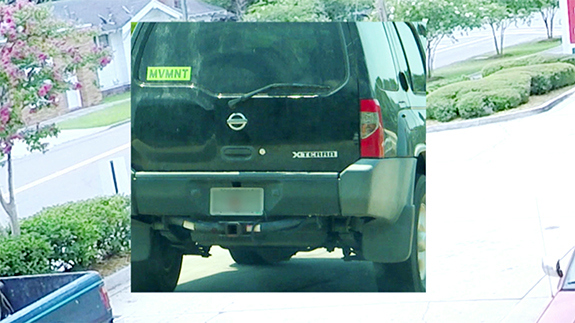 What would you say was the hardest part of being on the run?

Sentra: Feeling comfortable with all of our decisions.

Thu: The hardest part about being on the run: psychological exhaustion, not knowing where the hunters are and how close/far they were. We had to rely solely on our intuition, and that's tough when you're paranoid, because nothing feels safe.

We weren't always bouncing from place to place, so the days we weren't on the move, we were relentless in trying to come up with our next game plan—sifting through the pros and cons of our past, present, and future actions.

What was your biggest takeaway from your experience on the show?

Sentra: State of mind will be your best and worst asset.

Thu: Big Brother is always watching. Never underestimate your opponent.

Do you have any advice to those thinking about trying to do what you did?

Sentra: Trust no one, and pack food.

Thu: Be ready to roll with the punches. Everything you think you know about the government, technology, and surveillance will be more pervasive, more invasive, [and] more accurate than you can ever imagine.

Finally, would you give Hunted another shot, if given the chance?

Sentra: Absolutely, always up for a good challenge.

Thu: We've been thinking about redeeming ourselves since the moment we got caught. All the things we could've done differently, where we could've gone, what we should've avoided, how we could've pushed back—all of those ideas have been circulating through my brain for almost a year now.

So, given the chance, it would be a dream come true to lay to rest what happened the first time around. And knowing what it's like to get caught, we would do anything to avoid reliving that feeling again.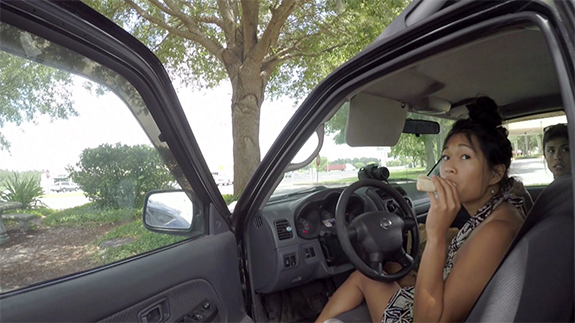 Watch all-new episodes of Hunted on Wednesdays at 8/7c on CBS and CBS All Access.