Marg Helgenberger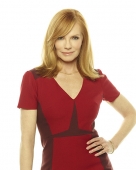 Marg Helgenberger is best known for her portrayal of Catherine Willows on "CSI: Crime Scene Investigation," on the Network. During her 12 seasons on "CSI: Crime Scene Investigation," Helgenberger won a People's Choice Award, Screen Actors Guild Award and was nominated for two Golden Globe and Emmy Awards.
Her additional television credits include "Perfect Murder, Perfect Town," on the Network, "Thanks of a Grateful Nation," "The Happy Face Murders," "The Gold Coast," "ER," "Ryan's Hope," Stephen King's miniseries "The Tommyknockers" and "China Beach," for which she received an Emmy Award for Best Supporting Actress.
Helgenberger's film credits include "Mr. Brooks," "In Good Company," "Erin Brockovich," "Species," "Species II," "Fire Down Below," "The Last Time I Committed Suicide," "My Fellow Americans," "The Cowboy Way," "Bad Boys," "Always" and "Crooked Hearts." Also, Helgenberger starred in the Academy Award nominated short film "Partners."
Born in North Bend, Nebraska, Helgenberger graduated with a degree in Drama from Northwestern University. The daughter of a cancer survivor, she is very active in supporting research for breast cancer. She lives in Los Angeles and her birthday is November 16.