Josh Holloway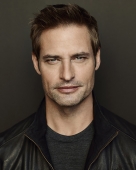 Josh Holloway is best known for his portrayal of "Sawyer" on the television series "Lost," for which he received a Screen Actors Guild Award for "Outstanding Performance by an Ensemble in a Drama Series." His other television credits include "NCIS," "CSI" and "Walker, Texas Ranger," on the Network, "Community" and "The Lyon's Den."
Holloway's film credits include "Paranoia," "Mission: Impossible – Ghost Protocol," "Stay Cool," "Whisper," "Mi Amigo," "Moving August" and "Cold Heart." His upcoming film credits include, "Battle of the Year: The Dream Team" and "Ten" alongside Arnold Schwarzenegger, Sam Worthington and Terrence Howard.
Holloway was born in California and spent his childhood in the Blue Ridge Mountains of Georgia. He studied at the University of Georgia for one year and moved to New York City to pursue modeling. He's an avid outdoorsman who enjoys fishing, sailing, camping and snowboarding.
Currently, Holloway resides in California with his wife and daughter. His birthday is July 20.