John Billingsley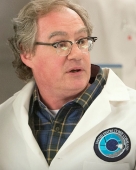 John Billingsley graduated from Bennington College in 1982. He spent 15 years pursuing a stage career, most notably in Seattle. In 1990, he founded a Seattle-based theatre company called Book-It, which was devoted to adapting fiction for the stage. Also, he helped found an acting studio in Seattle called Freehold, where he taught for seven years.
His television credits include starring roles on "The Others," "Star Trek: Enterprise," "The Nine" and recurring roles on "True Blood," "Prison Break," "NYPD Blue" and "Nikita." His other television credits include "Revenge," "Suits," "Southland," "Scrubs," "Nip/Tuck," "Six Feet Under," "The Closer," "The West Wing," "Stargate," "Gilmore Girls," and "The Mentalist," "NCIS," "CSI: NY" and "Cold Case," on the Network.
His film credits include "Out of Time," "High Crimes," "2012" and indie films "Trade of Innocents," "A Green Story," "Red Line," "Sironia" and "Losing Control."
He lives in Los Angeles with his wife, actress Bonita Friedericy. His birth date is May 20.