PJ Byrne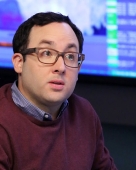 PJ Byrne graduated from Boston College and received an M.F.A. in acting from the prestigious Theatre School at DePaul University.
Most recently, Byrne completed a leading role in the Martin Scorcese film, "The Wolf of Wall Street," which is due out in December 2013. His additional film credits include "Horrible Bosses," " Final Destination," " Dinner for Schmucks," "The Campaign," "Extraordinary Measures," "Charlie Wilson's War," "Bewitched," "Be Kind, Rewind," "Bruce Almighty" and "Bloodwork."
His television credits include "NCIS" and "The Mentalist," on the Network, "The Game," "Burn Notice," "Bones," "It's Always Sunny in Philadelphia," "Reno 911," "West Wing," "ER," "Boston Legal," "Desperate Housewives" and "New Adventures of Old Christine." In addition to his on-screen roles, Byrne voices one of the lead roles in the Emmy Award nominated Nickelodeon series, "The Legend of Korra."
He was born in Maplewood, New Jersey and currently lives in California with his wife, Jamie. He can be followed on Twitter @PJ_Byrne.