Jeff Schroeder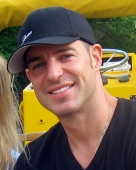 Jeff Schroeder graduated with a degree in Marketing from Aurora University. While pursuing his education at Aurora, he played 4 years of college football. Though he had dreams of playing football professionally, Jeff switched his focus to other passions, including traveling and acting.

After earning his degree, Jeff saved enough money to take a month long trip backpacking across Western Europe. A few years later, Jeff ventured out west to California to pursue a career in acting. He lived in Los Angeles for a couple of years before moving back home to Chicago. Upon his return, Jeff began a career in advertising at a radio agency, where he presently works. Over the years, Jeff continued acting in Chicago and has appeared in many commercials, and even began to book modeling jobs for print. Even with the exciting opportunities that came his way, Jeff had always strived for more.

Jeff's big break finally came when he appeared on CBS's hit show, Big Brother 11. Although he didn't win the show, Jeff did win the award for being America's Favorite House Guest. The experience alone was worth more to him than winning the prize money. While living in the Big Brother house Jeff met his girlfriend, Jordan Lloyd, and started a "Showmance" which led him to his next opportunity. A few days after Big Brother wrapped, Jeff and Jordan were approached by CBS to be teammates on the Amazing Race. Jeff was thrilled because he was able to combine travel and entertainment, two of his greatest passions. Jeff takes on life with a "glass half full" mentality, and tries to take on every new experience with a positive attitude. He believes that life is about meeting new people and visiting new places to discover something new about himself at every turn. Jeff took on his next adventure when he was chosen to take on the world in, "Around The World For Free Season 2". After circumnavigating the world without a penny in his pocket, Jeff, along with his girlfriend Jordan returned for Big Brother – All Stars.
Jeff and Jordan have decided to take the next step in their relationship by moving together to the city of Los Angeles. You can watch it all unfold this summer on CBS Interactive in the new original series; Jeff and Jordan Do America.