Jordan Lloyd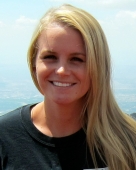 Jordan Lloyd grew up in the small town of Mathews, North Carolina. After, her parents divorced life became tough for Jordan along with her brother, sister and mom. In fact, Jordan shared a room with her mother in a 2-bedroom townhouse from age 20 - 22.
Jordan was spotted by the casting department of Big Brother witnessing at a bowling alley, which was one of her three jobs. For the first time she flew on an airplane to Los Angeles where the producers agreed she would be perfect for the show. They were right, as Jordan not only won the hearts of America, but also placed first along with the $500,000 cash prize. Here, she fell in love with fellow Big Brother contestant Jeff Schroeder and the two have been dating ever since. She returned with Jeff for Big Brother – All Stars. Although she tries to stay clear of the limelight, somehow it keeps finding her. With her country charm and warm smile Jordan is beloved by fans across the country.
Her move to Los Angeles with Jeff is a pretty big deal as this is the first time she has lived away from her family. She is excited of the road ahead and hopes everyone watches their new show Jeff and Jordan Do America.