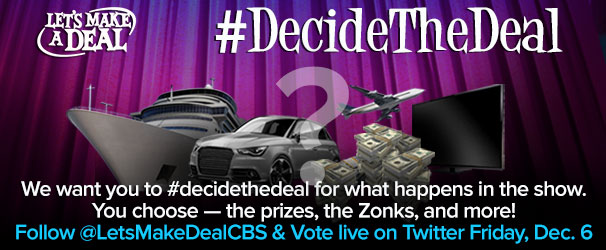 News: Decide The Deal!
LET'S MAKE A DEAL will tap into the power of social media with it's second special Twitter episodes this season. The episode will tape Friday, Dec. 6 (1:00 PM, PT) and air Wednesday, April 23 (check local listings) on the CBS Television Network. To participate, fans should follow @letsmakedealCBS beginning at 3:00 PM, ET / 2:00 PM, CT / 12:00 PM, PT on Friday, Dec 6 when the taping begins. Via the show's Twitter handle, fans can then vote on elements of the show!
Each act of the show will have a key element to be voted upon – from choosing whether an exotic sports car should be in a deal or its cash equivalent, to the prizes affecting the "Big Deal of the Day"-- the fans decide! By using the hashtag #DecideTheDeal, fans votes will be received. Votes will then be tallied immediately, with the most popular choices incorporated into the episode as it happens. The fun will include the guest audience who will receive a special giveaway announced by host Wayne Brady.