Watch PJ Morton's Performance On NCIS: New Orleans
The R&B artist describes his experience on set and performing in the series' all-new episode, "Return of the King."

Wondering who closed out NCIS: New Orleans' latest episode, "Return of the King," with that great track on Tuesday? That would be singer-songwriter PJ Morton, who performed his original song "Sticking to My Guns."

The New Orleans artist, who is also Maroon 5's keyboardist, caught up with us after the episode aired to talk about the origin of "Sticking to My Guns" and what it was like performing on the set of NCIS: New Orleans.




"'Sticking to my Guns' initially came to me as a proclamation to remain who I was creatively," PJ explained, "but the more I go through life, the more it evolves. Considering the crazy division in the world right now, it means more to me. [It] means that I want love to win. I'll stick to my guns on that."

As for transferring his musical stylings to the TV screen, PJ continued, "It was awesome! Feels like a real club setting," adding that nobody wanted to call "Cut!" once he and his bandmates started playing.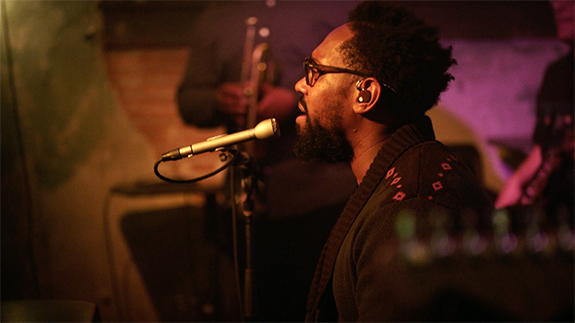 It helped that PJ got to play in his old hometown again. Reflecting on The Big Easy's influence on his own style, he said, "I think, at the foundation of it all, [New Orleans] just taught me to respect the music," adding, "Stylistically, I think it's why I can't stay away from horns ... That comes from being a New Orleans boy."

See the full episode featuring PJ here on CBS All Access.

Watch NCIS: New Orleans on Tuesdays at 10/9c on CBS and CBS All Access.