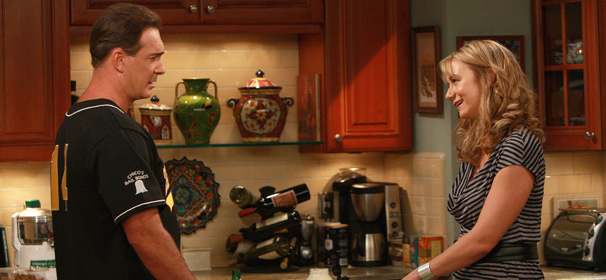 Yum: Megyn's Cookie Recipes
Chocolate Chip Cookies
Eat these while they're still warm. You'll make lots of friends.

Makes about two dozen

INGREDIENTS
8 1/2 oz. cake flour
8 1/2 oz. bread flour
1 1/4 t. baking soda
1 1/2 t. baking powder
1 1/2 t. kosher salt
2 1/2 sticks unsalted butter
10 oz. light brown sugar
8 oz. sugar
2 large eggs
2 t. vanilla
1 1/4 pounds bittersweet chocolate chips (such as Callebaut or Ghirardelli or Valrhona)
Sea salt

DIRECTIONS
Sift flours, baking soda, baking powder and salt into a bowl. Set aside.

Cream butter and sugars together until very light, about 5 minutes. Add eggs, one at a time, mixing well after each addition. Stir in vanilla.
Reduce speed to low, add dry ingredients and mix until just combined, 5 to 10 seconds. Drop chocolate pieces in and incorporate them without breaking them.

Press plastic wrap against dough and refrigerate for 24 to 36 hours.

When ready to bake, preheat oven to 350 degrees. Line a baking sheet with parchment paper or a nonstick baking mat.

Scoop about 6 golf-ball-sized mounds of dough onto baking sheet. Smooth out tops. Sprinkle lightly with sea salt and bake until golden brown but still soft, 18 to 20 minutes.

Transfer sheet to a wire rack for 10 minutes, then slip cookies onto another rack to cool a bit more. Repeat with remaining dough, or reserve dough, refrigerated, for baking remaining batches the next day.
Double Ginger Cookies
Makes about two dozen

INGEDIENTS
1 1/2 c. flour
1 1/2 c. whole wheat flour
1 t. baking powder
1/2 t. baking soda
1/2 t. salt
1 t. ground ginger
3/4 c. crystallized ginger, chopped
1 1/4 c. sugar
2 T. ground flaxseed
1/2 c. applesauce
1/4 c. canola oil
1 t. lemon zest
1 T. fresh lemon juice
1/2 t. vanilla

DIRECTIONS
Preheat oven to 350°F. Line two baking sheets with parchment paper.

In a large bowl, whisk together the flours, baking powder, baking soda, salt, ground ginger, and crystallized ginger.

In a separate bowl, combine 1 cup of the sugar and all the remaining ingredients.

Stir the two mixtures together until moist and just mixed, shape into a disk, and cover with plastic wrap. Cover and refrigerate for 1 hour, or up to 1 day.

Place the remaining 1/4 cup sugar in a small bowl. Using a small scoop, form the dough into 1-inch balls. Roll the dough balls through the sugar, and then flatten them with the bottom of a drinking glass.

Place the cookies 2 inches apart on the prepared baking sheets.

Bake for 16 minutes, or until slightly browned (err on the side of underbaking – they won't look very brown when they're done).

Cool on the baking sheets for one minute. Transfer to wire racks and cool completely.