Michael Carter-Williams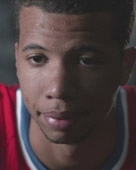 6'5" 184 lbs
College: Syracuse University
Position: Guard
Hometown: Hamilton, RI
Drafted by the Philadelphia 76ers
Age: 22

Michael is a tantalizing talent, a tall point guard with explosive athleticism and the rare ability to make his teammates better. He's also a quiet and relatively "young" 22, in part because he's been sheltered (in a good way) for much of his life by his mother, Mandy, a charismatic and forceful former college basketball player who is Michael's No. 1 fan, critic and coach. As Michael embarks on a lucrative pro career, Mandy is serving as his manager, helping him navigate the business of professional basketball and maximize his earning potential…while also giving her son the occasional tip on shooting form.