Shane Larkin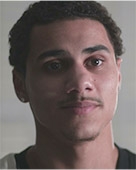 5'10" 171 lbs
College: University of Miami
Position: Guard
Hometown: Orlando, FL
Drafted by the Dallas Mavericks
As the son of Hall of Fame baseball player Barry Larkin, Shane grew up surrounded by the paragons of professional sports. Shane chose to play basketball – not his father's sport – and earned a scholarship at the University of Miami. In just his second year on campus, Shane led the Hurricanes to one of the best seasons in school history, as Miami won the regular-season and conference titles in the Atlantic Coast Conference, one of the best leagues in all of college basketball. An explosive – if undersized – point guard, Shane declared for the NBA Draft, and is eager to show the world that he's not just the lucky son of a famous athlete, but an elite talent in his own right.