Lauren Holtkamp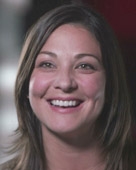 NBA Referee Prospect
Age: 32
Hometown: St. Louis, MO

Lauren's standout high school basketball career was cut short by two brutal knee injuries, but her love for the game never waned, and she came back to help the team at Drury University, a small college in Springfield, MO, advance to the NCAA Division national championship game in 2004. After college, Lauren earned two masters degrees and enrolled in Divinity School when she began officiating basketball games to earn a little extra money – and in turn found her new "calling" as a referee. Lauren is part of an elite NBA referee-training program in which she works a few NBA games a year while serving as a regular official in the D-League. She's been invited to work games at the NBA's annual Summer League in Las Vegas, a critical proving ground for aspiring officials, as all of the NBA's officiating executives will be there evaluating her work – and potentially deciding whether she'll get the opportunity to become the third full-time female referee in NBA history.