Ryan - @MrRyanPickett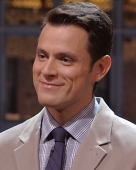 Ryan Pickett, 32, Rigby, Idaho
Current Job: MBA Student at Western Governors University
Career Highlights: Former Owner/Operator of the restaurant "Pickett's Bambino" (later changed to "The Great Bambino Restaurant" after I sold it).
Why I think I'm right for The Job: Five months after I was born, my family started a restaurant, La Pizzeria, and I spent my childhood there learning to love the environment of the food industry. After college, I returned back home to work with my parents. Soon afterwards, I opened up my own restaurant, Pickett's Bambino, but after a rough battle with cancer, I was forced to sell it. Now, three years later, I feel ready physically and mentally to get back into the game, and what better way to make a comeback than with a stellar company like The Palm!?!

Contact Ryan: @MrRyanPickett