Brenda - @midlifemona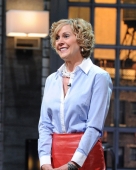 Brenda Clevenger, 50, Kansas City
Current Job: Part-time PR Consultant and Freelance Writer
Career Highlights: Created and marketed first of its kind industrial art show with 10-foot steel and iron sculptures sprinkled throughout south Kansas City; Created and marketed first of its kind midlife fashion show to celebrate beauty of women of all ages, all sizes, and all chapters in life; Dominated condo market sales in mid 2000; Top 25 PR person and publicist in Kansas City; Current PeaChic grant nominee for Midlife Mona Lisa; Successfully have reinvented myself again and again for personal and professional gain.
Why you think you're right for "The Job:" Beyond my fashionista knowledge, I can help Cosmo, or any Hearst Magazine, beef up its career and finance content, which currently makes up only 18% of Cosmo's editorial. Women must be fiercely independent and financially sound even if they're loved up. Plus I can re-engage the 40+ demo. I would love to write an entrepreneurial column for one of Hearst's magazines, called Ms. Independent, Self Vested or Start Something.

Contact Brenda: @MidlifeMona