Rachele - @trainor_rachele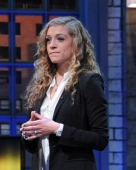 Rachele Trainor, 25, White Hall, Maryland
Current Job: Unemployed
Career Highlights:My career in fashion has been quite an exciting ride. I started out as head fashion intern at Marie Claire Magazine. I then worked as a sales intern at Diane Von Furstenberg, which seeing one of the greatest fashion designers to ever live everyday was not too shabby! After interning there for three months I was offered a job but declined...I am a HUGE IDIOT! My latest job was working as a sales assistant at Patterson J. Kincaid.So my career in the fashion world this far has been very exciting but a roller coaster ride!
Why you think you're right for "The Job:" Starting at a very young age, my love for fashion became a very large presence in my life. I began planning my career before college, and as I studied for my degree, my passion grew by leaps and bounds. I knew I needed to work, live, and breathe this industry to succeed. In my senior year I landed an internship at Marie Claire Magazine, where I was able to touch and feel my dream. Once I got a taste of what the magazine world was like, I never wanted to leave. Along with that internship, and the other positions I have held thus far, I feel I have the experience and the drive needed to succeed at Cosmopolitan Magazine. My sincere love of the industry outweighs all else, and I will put forth my life to make this dream a reality.

Contact Rachele: @trainor_rachele