Stephen's LIVE Monologue: Trump Lays Out His Vision For Moving Forward
Stephen Colbert reacts to the President's address to joint houses of Congress.

Stephen Colbert kicked off The Late Show's live broadcast on Tuesday night by commenting on President Trump's hour-long speech to members of the House of Representatives and the Senate.

"Now, technically, this was not a State of the Union, because I think in this timeline, the Confederacy won," Stephen said.

STREAM: The Late Show with Stephen Colbert On CBS All Access

Throughout the opening monologue, which you can watch in the video above, Stephen reacted to Trump's many talking points, including the Trans-Pacific Partnership, rebuilding American infrastructure, the 1800s, and immigrants.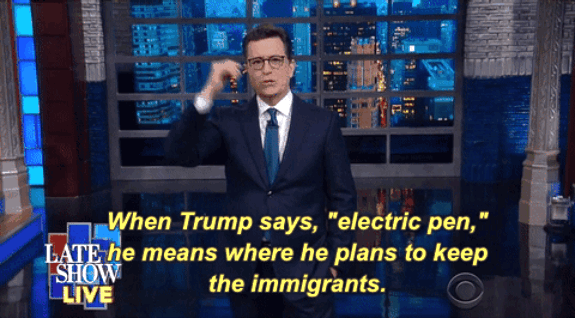 While Stephen acknowledged that people everywhere had mixed opinions on the President's speech, he pointed out one truth everyone can get behind.

"As we come to the end of tonight's address to Congress, I think we can all agree on one thing: one down, seven to go."

Watch The Late Show with Stephen Colbert weeknights at 11:35/10:35c on CBS and CBS All Access.