Kevin Spacey On Underwood Vs. Trump: "We Have Better Writers"
While visiting The Late Show, Spacey also revealed his odd jobs as an up-and-coming actor.

In the Trump era, plans for a gripping political drama like House of Cards can be as precarious as, well... an actual house of cards.

Kevin Spacey, the man who brings Frank Underwood to life, stopped by The Late Show on Tuesday and explained how the real administration can complicate life for his fictional one. Sometimes the headlines can make you feel a little like this: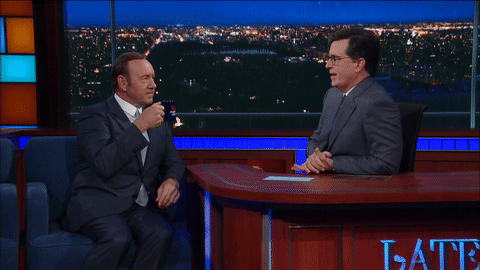 One thing Spacey is confident about? "We have better writers."

On his way to becoming one of the most iconic actors of this generation, Spacey had to take on some odd jobs (hold your hat—literally) and found a practical way to reduce his rent. He shared some of those stories during the sit-down with Stephen, and also discussed two of his upcoming projects.

For two days only in June, Spacey will star in the one-man show Clarence Darrow. In the interview, he explained Darrow's surprising role in American history beyond just the famous Scopes "Monkey" trial. Spacey also announced that he's giving away even more tickets to the performances for theatre fans 18-25. The show will have a unique venue: Arthur Ashe Stadium in Queens, New York, with seating for 5,000 at each performance.

Spacey will be hosting Broadway's biggest night—the 71st Annual Tony Awards®—and laid out his preparation plans.

Watch the 71st Annual Tony Awards live on Sunday, June 11 at 8/7c on CBS and CBS All Access.

Watch all-new episodes of The Late Show with Stephen Colbert weeknights at 11:35/10:35c on CBS and CBS All Access.