Sean Kanan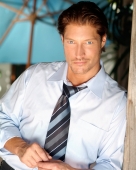 Sean Kanan stars as "Deacon Sharpe", the dubious bad-boy that everyone loves to hate and absentee father of "Hope Logan" (portrayed by Kim Matula), on THE BOLD AND THE BEAUTIFUL.
Born in Cleveland, Ohio and raised in New Castle, Pennsylvania, Kanan knew from an early age that he wanted to become an actor. While attending Boston University as a political science major, he took acting classes and sought work in local television. When Kanan landed a role in an episode of Spenser for Hire, he decided to transfer to University of California Los Angeles to pursue acting full time. Kanan received his big break working for Academy Award-winning director John Avildsen in the 1989 film The Karate Kid, Part III.
Kanan began his portrayal of "Deacon" on THE BOLD AND THE BEAUTIFUL in 2000 when Executive Producer and Head Writer Bradley Bell created the character. For the next five years, "Deacon Sharpe" became synonymous with forbidden love affairs and a fan-favorite. Kanan exited the role in 2005, but returned for two story arcs in 2012 before returning permanently to the role in 2014. Additionally, he also appeared as "Deacon" on The Young and The Restless from 2009 to 2012. Prior to his work on THE BOLD AND THE BEAUTIFUL, Kanan starred as "Jude Cavanaugh" on Sunset Beach and "A.J. Quartermaine" on General Hospital. His other television credits include a return to General Hospital in 2012, The Outsiders, Desperate Housewives, Happily Divorced, The Nanny, Walker, Texas Ranger, Lois and Clark, Who's the Boss, Oliver Stone's Wild Palms and a 2006 appearance on Dancing With The Stars: Italy.
In addition to Karate Kid III, Kanan's other film credits include Abracadabra, My Trip to the Dark Side, Chump Change, Rich Girl and Oasis Cafe, a short film co-starring Gary Busey which Kanan also wrote and produced.
Kanan is an accomplished poet, screenwriter and martial artist. With a love for the stage, he frequently performs in theater productions and standup comedy clubs across the country. In 2011, Kanan wrote "The Modern Gentleman: Cooking and Entertaining with Sean Kanan", published by Dunham Books. He and his wife, Michele, have recently become ambassadors for Skin 2 Skin Care.
He currently resides in Los Angeles with his wife, Michele, and their children. He celebrates his birthday on November 2nd.