Texas Battle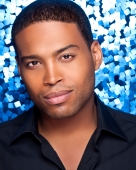 Texas Battle plays the role of "Marcus Forrester," long-lost son of "Donna Logan" (played by Jennifer Gareis) and "Justin Barber" (played by Aaron D. Spears) and adopted son of "Eric Forrester" (played by John McCook) on THE BOLD AND THE BEAUTIFUL.

Battle's previous television credits include One Tree Hill, The Bernie Mac Show, The Parkers, Committed, All of Us and Sherri. Additionally, his film credits include Final Destination 3, Wrong Turn 2, Coach Carter, as well as the comic book adaptation of Dragonball: Evolution. While still continuing his role as "Marcus" on THE BOLD AND THE BEAUTIFUL, Battle is currently starring on MTV's new supernatural series Death Valley as "Officer John-John Johnson."

In 2009 and 2010, Battle was nominated for a NAACP Image Award© in the category of "Outstanding Actor in a Daytime Drama Series."

Born in Houston, Texas, Battle graduated from the University of Texas, majoring in Kinesiology. Upon graduation, he began substitute teaching before deciding to follow his dreams to Hollywood, to become an actor. He enjoys spending time on the beach, working out, playing basketball and working on his music. His birthday is August 9.

In 2011, THE BOLD AND THE BEAUTIFUL received its third consecutive Emmy® award for "Outstanding Daytime Drama Series", was named the Most Popular Daytime Soap Currently on TV by Guinness World Records® and received its sixth Golden Nymph Award at the International TV Audience Awards in the "Telenovela/Soap Opera" category at the Monte Carlo Television Festival. THE BOLD AND THE BEAUTIFUL is the most watched daytime drama series in the world, seen daily by more than 35 million people in over 100 countries.

THE BOLD AND THE BEAUTIFUL, which celebrated its 24th anniversary on March 23, 2011, is a Bell-Phillip Television production, broadcast weekdays (1:30-2:00 PM, ET; 12:30-1:00 PM, PT) on the CBS Television Network. Bradley P. Bell is the Executive Producer and Head Writer. THE BOLD AND THE BEAUTIFUL is the first and only daytime drama to simulcast in Spanish utilizing SAP (Secondary Audio Program) technology.