Kimberly Matula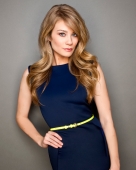 Kim Matula plays the role of "Hope Logan", daughter of "Brooke Logan" (portrayed by original cast member Katherine Kelly Lang) and her son-in-law, bad boy "Deacon Sharpe" (portrayed by Sean Kanan) on THE BOLD AND THE BEAUTIFUL. "Hope" has found true love, "Liam Spencer" (portrayed by Scott Clifton) but has his half-brother, "Wyatt Fuller" (portrayed by Darin Brooks) vying for her heart. Not one to stray far from the family business, "Hope" runs her own fashion line at Forrester Creations, "Hope for the Future."
In May of 2014, Matula received her very first Daytime Entertainment Emmy® Awards nomination in the category of "Outstanding Younger Actress in a Drama Series".
Matula, is a native of Forth Worth, Texas, and was the vice president of the thespian society in high school. Her additional credits include the role of "Tara" in the Lifetime Network made-for-television movie Queen Sized with Nikki Blonsky and Annie Potts, along with guest-starring roles on CBS' hit shows, The Defenders and How I Met Your Mother. She can soon be seen on the upcoming independent films, Dawn Patrol and Maybe Someday.
Matula celebrates her birthday on August 23rd.