Zack Conroy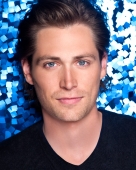 Emmy® nominated actor Zack Conroy plays the role of "Oliver Jones", local DJ and fashion photographer on THE BOLD AND THE BEAUTIFUL.

Conroy joined the cast of The Bold and the Beautiful in 2010 fresh from his role as "James Spaulding" on Guiding Light. He was nominated for a Daytime Emmy® Award in the category of "Outstanding Younger Actor" for this role. His other credits include the roles of "Leo Morrisey" on As the World Turns and "Ben Simmons" on Gossip Girl. He has also appeared in commercials for Pizza Hut, New Balance and Lorafina, was a model for Kenneth Cole, and posed as "Joe Hardy" for The Hardy Boys book covers.

An alumnus of Boston College, Conroy graduated Magna Cum Laude with a Bachelor of Arts degree in General Management. He relocated to Los Angeles from New York City for his role on THE BOLD AND THE BEAUTIFUL.

Conroy celebrates his birthday on April 19th.
In June 2013, The Bold and the Beautiful received its eighth Golden Nymph Award at the International TV Audience Awards in the "Telenovela/Soap Opera" category at the Monte Carlo Television Festival. In 2011, The Bold and the Beautiful received its third consecutive Emmy® award for "Outstanding Daytime Drama Series". In 2010, Guinness World Records® named The Bold and the Beautiful the Most Popular Daytime Soap Currently on TV. The Bold and the Beautiful is the most watched daytime drama series in the world, seen daily by millions of people in over 100 countries.
The Bold and the Beautiful, which celebrated its 27th anniversary on March 23, 2014, is a Bell-Phillip Television production, broadcast weekdays (1:30-2:00 PM, ET, 12:30-1:00 PM PT) on the CBS Television Network. It is the first and only daytime drama to simulcast in Spanish utilizing SAP (Secondary Audio Program) technology. Bradley P. Bell is the Executive Producer and Head Writer.